Musicians John Legend and Common, who won the only Oscar awarded for Selma, used their time on stage to highlight the injustices still facing African Americans today.
"We say that Selma is now because the struggle for justice is right now," John Legend said, right before he reeled off some striking facts. Here is some context on those:
"We know that the Voting Rights Act that they fought for 50 years ago is being compromised right now, in this country today."
Legend was talking about the ramifications for African Americans of the 2013 US Supreme Court decision that overturned Section 5 of the Voting Rights Act, which had required some states and locales—the ones with a history of discrimination—to get "preclearance," or permission, before changing voting laws.
Propublica has been keeping track of voting rights changes by state since the Supreme court case, and found that voting rules did become more restrictive across the country (follow the link for an interactive map). A number of states, for example, have moved forward with laws requiring voters to present identification and proof of citizenship. Research suggests that voter ID laws deter minority voters and the underprivileged. The reasons for that, notes the Washington Post, include the costs and logistical constraints of obtaining an ID.
"We live in the most incarcerated country in the world."
The US does have the largest prison population—2.2 million people incarcerated in 2012, according to the International Centre for Prison Studies. The only country that tops the US prison rate (the number of people imprisoned per 100,000 residents) is the Seychelles.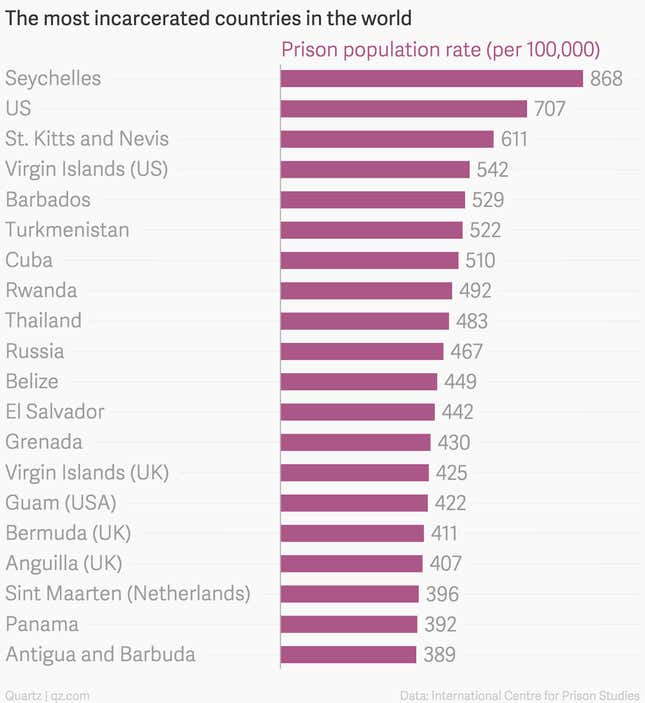 "There are more black men under correctional control today than were under slavery in 1850."
Legend was very specific with his wording—he said "correctional control," which includes people in jails, state and federal prisons, and those under supervision through parole or probation. PolitiFact checked this comparison in December when a Brown University student invoked it, and then noted it in a post about Legend's speech last night. The site found that were 526,000 black men (pdf, pg. 8) in state or federal jurisdiction in 2013, on top of an additional 877,000 African American men on probation and 280,000 on parole. (As Vox notes, this doesn't count jails, which would likely add another few hundred thousand).

Here are the singers performing the song "Glory," right before they won the award: