The highways of the seas are packed. From 2005 to 2014, global shipping volumes rose 43%, according to data from the United Nations Conference on Trade and Development (UNCTAD). And in poorer countries, trade has increased by a dramatic 78% over the same period.
This video from FleetMon–brought to our attention by National Public Radio–shows what the flow of cargo looked like for four days in September 2012. It's a revealing and beautiful depiction of global trade.
What would be hard to see from one or two boats comes into focus when viewing almost the entire global fleet. Trade routes are clear, bottlenecks apparent, and congestion revealed.
Here are some of the highlights:
Strait of Malacca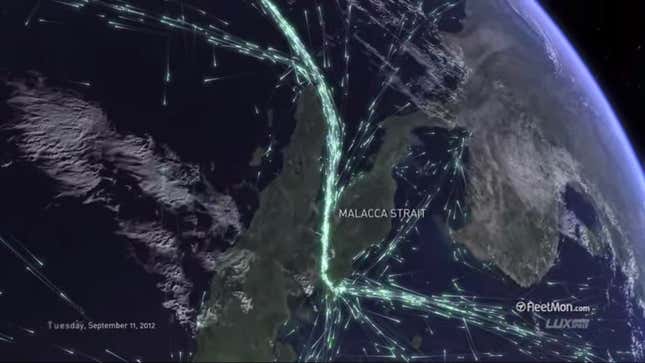 When goods leave east Asia, destined for Europe or the Middle East, or when oil is shipped in the opposite direction to the Pacific, it goes via the Strait of Malacca. An estimated quarter of global trade travels through the strait. Global merchandise trade with developing Asian nations has close to tripled since 2005.
Panama Canal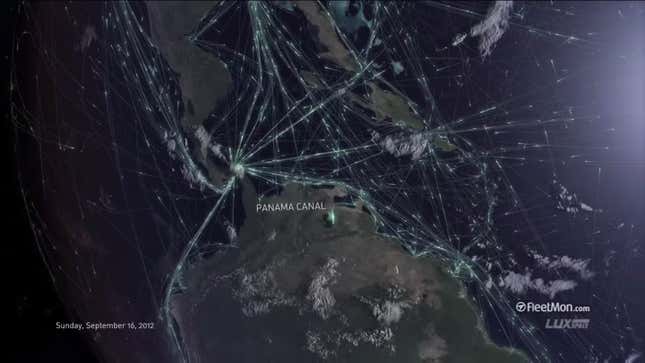 It's the shortest route connecting cities on the Atlantic coast of the Americas to Asia. Wait times at the canal, which was once controlled by the US but is now run by Panama, can reach a week, according to Bloomberg. Still, more than 13,000 ships a year cross the continental divide though the passage. New and wider channels, which will increase the capacity of the canal by allowing more and larger boats, are set to open in the first quarter of 2016.
Horn of Africa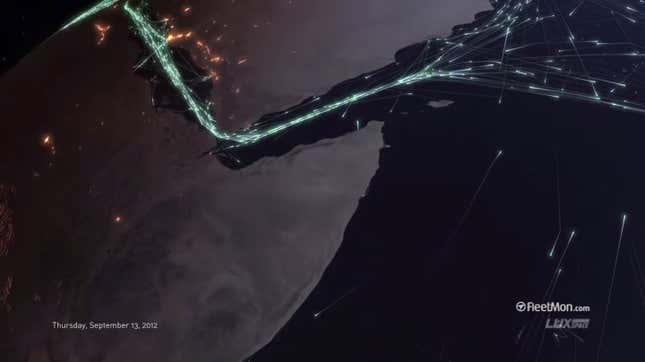 Infamous for its piracy, the area off the Horn of Africa is an unavoidable route for goods headed to or from the Arabian Peninsula, or onward through the Suez Canal. Piracy is down since an international military effort to police the area was stepped up. In 2013 there wasn't a single ship hijacked. Last year there were only two reported piracy events in the area, according to the US Office of Naval Intelligence, and neither of them were successful hijackings.
Strait of Gibraltar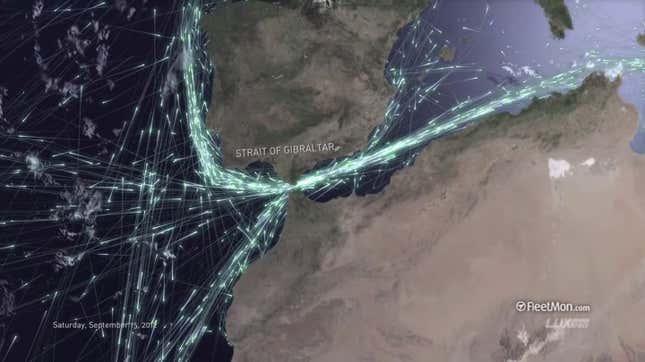 The gate to the Mediterranean has been a strategic naval bottleneck for centuries. Oil of all kinds is carried through the gap—crude from Northern Africa, olive from Italy. It's a link in the shortest seaborne routes between some of the worlds largest traders: Goods traveling between UK, Germany, Belgium, or the Netherlands, for example, to Mediterranean or Middle Eastern countries, transit through the strait of Gibraltar and the Suez Canal.