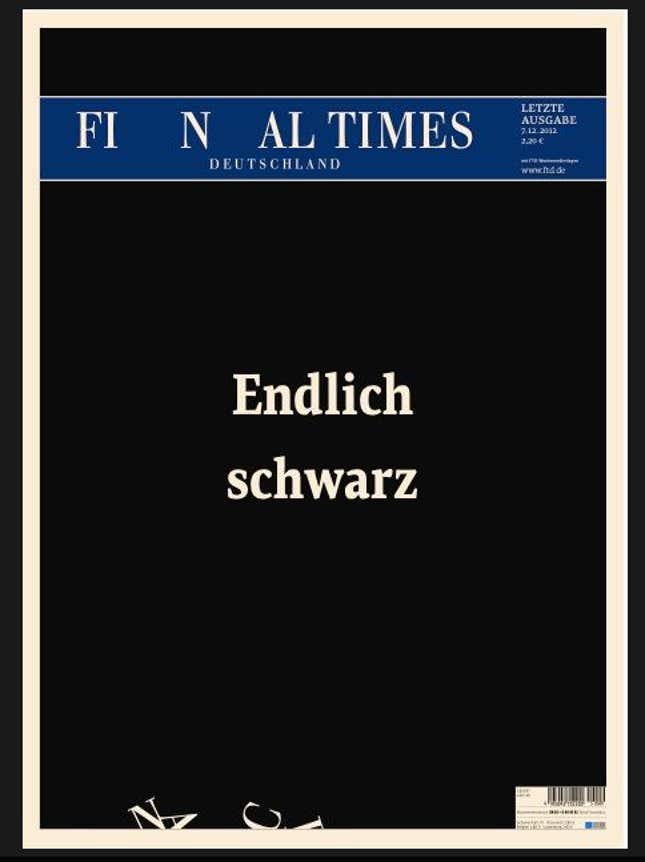 The Financial Times Deutschland (FTD), an unprofitable German broadsheet owned by Bertelsmann's Gruner & Jahr, has folded, and who's to blame?
German Chancellor Angela Merkel
In the last edition of the paper ever, its chief economist, Thomas Fricke writes (read English translation here): "The FTD's demise is blamed on competition from the Internet, on a structurally-driven reluctance to spend on print advertising, and on bad decisions. All this is undoubtedly true. But so far nobody has really hit on the real reason. Let's be honest: it was Angela Merkel."
Here are the reasons:
Merkel didn't listen to the paper's advice. At the start of the crisis, the paper said it was not helpful for countries in turmoil to pay high borrowing costs if the goal was to reduce debt burden, rather than increasing it. Too much austerity, huge cuts and higher taxes would lead to economic failure and debt to GDP ratios rising. The paper also warned against squeezing private creditors because this would lead to panic, saying that eventually the European Central Bank (ECB) would have to bail out countries in a crisis of this size. Merkel did the opposite, says Fricke, with no loans for Greece until there was no other choice, full-blown austerity until a depression loomed, no intervention by the ECB until this past summer, and penalty interest charges until "the insight dawned that this is utter lunacy."
She created panic in the markets. Fricke blames Merkel's "shock tactic" in July 2011 of pushing through a rescheduling of Greece's debt, leading to market panic—including concerns about Italy and Spain—the crisis to escalate, and share prices to fall—leading to an economic slump. Ever since, the German economy has stalled. While the ECB has said it will intervene on a grand scale, if needed, the damage is done. "And in the three to twelve months it has always taken for the Chancellor to do what we advised in the first place, the crisis has escalated further," writes Fricke.
And the crisis deepened, hitting businesses like the FTD. While the ECB announcement calmed the market, it's too late for some businesses. A slump in share prices across Europe caused widespread alarm and infected business sentiment. German growth rates of around 3% disappeared. (Indeed, today the Bundesbank revised forecasts for economic growth. Earlier projections for 1.6% growth in 2013, were revised to 0.4%, while this year's growth was slashed to 0.7% from 1%). Fricke says that in the summer of 2011, German newspapers and magazines enjoyed a brief reprieve when advertising sales showed slow but steady upward growth. Even if things didn't return to earlier sunnier days, there was still cause for  hope. But those hopes were dashed by an economic slump that is Merkel's doing, he says. While the newspaper may have failed over the long-term anyway, Merkel's decisions ushered it to the grave faster.
The  12-year-old FTD, which was never profitable, is not alone in its demise. The Frankfurter Rundschau, a German daily paper, and news agency DAPD (along with the former German service of the Associated Press), recently filed for bankruptcy. The FTD started out as a joint venture with UK Financial Times owner, Pearson.