For all the talk about declining R&D spending, excessive pricing, and overvaluation, drug companies still make plenty of money on their blockbusters.  The top 25 best selling drugs in the world, as tallied by industry publication Genetic Engineering and Biotechnology News (GEN) from company filings, press releases, and conference calls, accounted for a massive $145 billion in revenue last year.
Leading the pack was Humira, an anti-inflammatory antibody primarily used to treat arthritis made by AbbVie. (Two other arthritis treatments—Remicade from Johnson & Johnson/Merck and Enbrel from Amgen/Pfizer)—make the top five.)
It was closely followed by Gilead Science's Sovaldi, a brand new breakthrough hepatitis treatment that became controversial due to its incredibly high cost. Popular cancer drugs like Rituxan (Genentech), Avastin, and Herceptin (both Roche) also cluster at the top: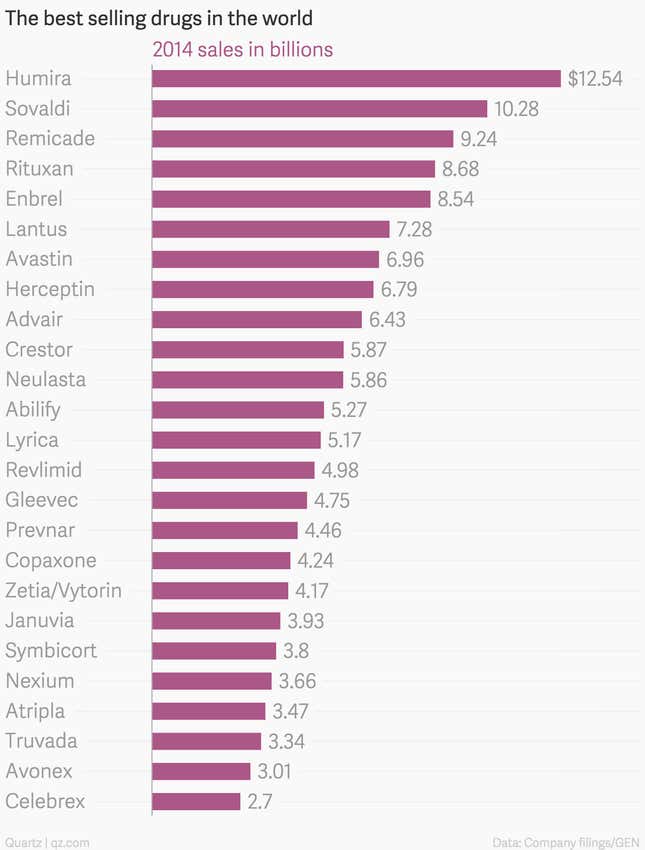 One drug is likely missing from the list, according to GEN. Boehringer Ingelheim's bronchitis and emphysema treatment Spiriva did more than $4 billion in sales in 2013, but the company won't announce 2014 numbers for a few months.
Some of these drugs are going to be long lasting franchises. Take Humira. It led the pack this year, but its main patent expires in late 2016, which is when things will get interesting. The drug is a biologic, a drug that uses the processes of the body to fight diseases, and is made in animal cells or bacteria. Generic competitors are much harder to make for this class of treatment. It will be what's called a "biosimilar" instead of an exact copy, so the drug will likely still get the company $10 billion or more in revenue for years to come, according to a JP Morgan analyst note.
But many other drugs on the chart are easier to replicate chemicals.  The devastating effect of patent expiration is on display at the bottom of the chart. The sales of GlaxoSmithKline's asthma drug Advair declined nearly 20% between 2013 and 2014, by more than a billion dollars.
Gilead's Sovaldi is excluded from this chart, as it was approved at the very end of 2013, making its year over year sales growth more than 7,000%: