Hong Kong had some good news in its annual budget review today: the city's annual revenue is projected to be 9.4% higher (pdf, pg. 42) than originally estimated, helping create a surplus of some HK$63.8 billion (US$8.2 billion) for the fiscal year ending March 31.
Where did the windfall come from? About half of the extra revenue is thanks to so-called "double stamp duty," essentially a one-time tax paid when purchasing a residential or commercial property. Hong Kong passed a law (pdf) last year doubling that tax on property purchases over HK$2 million ($260,000) for buyers who are non-residents or residents who already own another home. It was aimed in part at taking some of the hot air out of Hong Kong's overheated property market, caused in large part by an influx of mainland Chinese buyers.
The measure was first floated in 2012, and sales nosedived in 2013 in response to the idea and other property investment curbs. But it took months of legislative wrangling before it became law.
Despite the higher taxes, buyers from mainland China are desperate to get their cash out of the mainland's slumping property market, and they have been trickling back in the past year—much to the benefit of the city's coffers. Mainland buyers accounted for over a quarter of all luxury residential real estate purchases in Hong Kong in 2014, Centaline Property Agency reports.
Total residential real estate transactions in 2014 were as high as 65,000, Knight Frank estimates, with about three-quarters of that coming from non-primary residence buyers, or people who are buying for investment.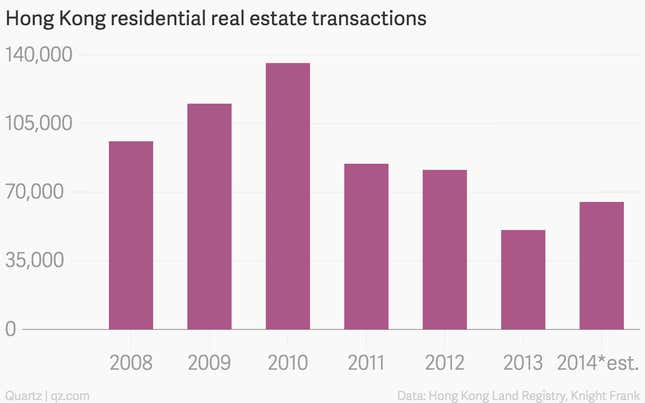 Prices for residential real estate were barely affected by the higher taxes, according the Hong Kong government's latest annual property market report (pdf).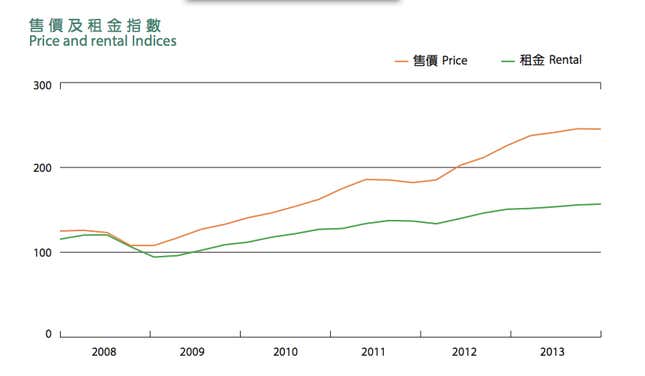 Hong Kong officials are now in a situation many city governments would envy: Officials plan to cut taxes and increase social spending, in an attempt to boost GDP growth that fell to 2.3% last year, from 2.9% in 2013. So while Hong Kongers are still angry about how difficult it is to find affordable housing, they may at least have a bit more cash in their pockets.