Barnes & Noble is spinning off its college business—which runs 714 college bookstores on university campuses around the US—into a separate company.
It seems like a good idea to unshackle the growing college business, which sells textbooks and school supplies as well as school gear, at stores usually not branded with the Barnes & Noble name, from the company's regular retail chain-store business, which has been contracting for years. Although the retail business is still responsible for two-thirds of the company's annual sales, Barnes & Noble's college presence eclipsed the size of its retail store network in fiscal 2013.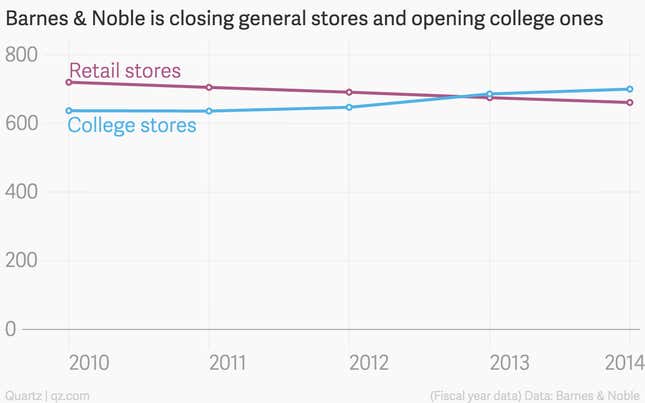 According to Barnes & Noble, more than half the country's universities (53%) still operate their own bookstores, leaving plenty of room for the company's college division to expand. And though there are plenty of efforts to disintermediate the education side of the books industry, pricing power in the textbook business remains absurdly strong.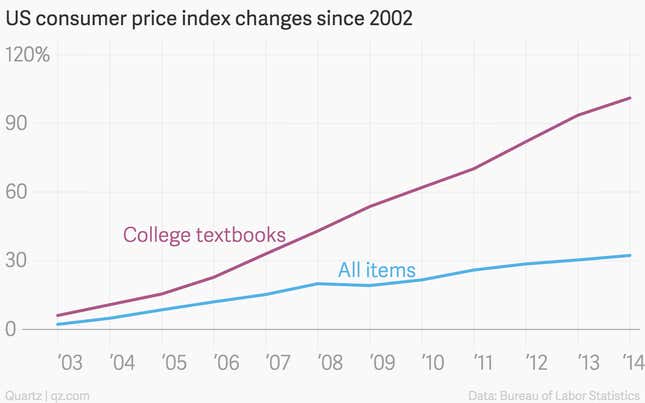 But there are headwinds to the business, one of which is a burgeoning shift in the textbook business from buying to renting. Annual sales at Barnes & Noble's college stores, including from textbooks, have declined $200 million from 2011 to $1.54 billion last year, while physical and digital textbook rental revenue has risen rapidly, from $34 million in 2011 to $211 million in 2014.

The company also recognizes that a lot of students are just skipping textbook purchases altogether and sharing with friends, or finding the information they need online. That explains its $23.8 million investment last year in Yuzu, a digital learning app that it hopes will become a widely used platform for students and teachers to buy textbooks and share course materials.
But in both the digital arena and on campus, the college division will still have to deal with the one problem that's been plaguing Barnes & Noble for years—competition from Amazon. Amazon already offers students textbook rentals, as well as online textbooks and the apps to work with them. The company also is expanding its campus presence with partnerships like the one it announced this month with Purdue University, which agreed to put an Amazon order pickup an drop-off location on its campus in West Lafayette, Indiana.