It's still something of a surprise to humanity that men are shopping for clothes more than ever before. But, as a recent e-commerce report from the research firm IbisWorld found, that's exactly what's happening.
Growth in online sales of menswear from 2010 to 2015 outpaced all other categories the analysts looked at. (The categories were selected to offer a broad view of comparable retail sectors, but are not comprehensive, hence the notable omission of womenswear.)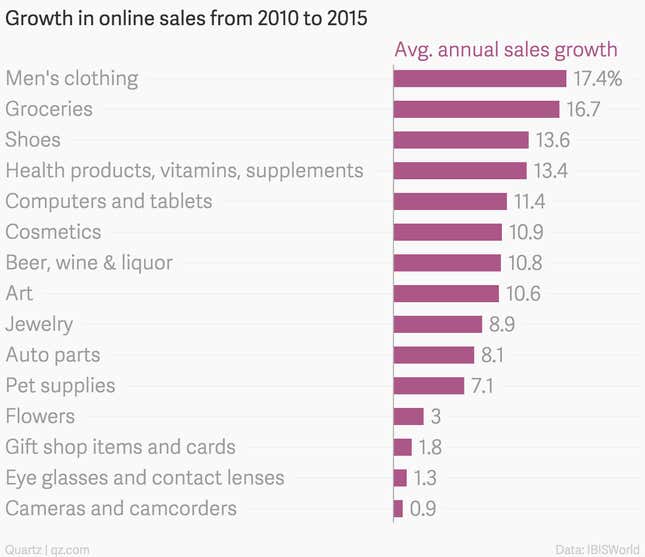 Will McKitterick, an IbisWorld retail industry analyst, tells Quartz that the high growth rate in men's clothing sales is likely due to the fact that the online menswear market isn't yet saturated. While retailers selling items such as cameras have quickly flooded the internet, e-commerce shops peddling clothes to guys started out as more of a trickle. Groceries, another e-commerce growth area, didn't meet expectations, so menswear grabbed the top spot.
The rise of the new male fashion consumer—and with it the emergence of lumbersexual, #menswear, and athleisure as trends—has created a huge opportunity. Smart retailers such as the Dallas-based shop Need and the curated shopping platform Farfetch are capitalizing on the phenomenon, offering new ways for men to shop for jeans, flannels, suits, and upscale sweatpants online.
IbisWorld predicts there's still room for the sector to expand, too. In its projections through the end of the decade, online menswear stands to grow more than the other selected categories.