The US Department of Justice investigation into civil rights violations in the city where a police officer killed an unarmed teenager depicts the police and courts as a gang, expropriating money from the city's black population—with revenue collection as the driving force behind racial discrimination.
Attorney General Eric Holder said there was not sufficient evidence to prove that officer Darren Wilson had willfully committed a civil rights violation when he shot and killed Michael Brown, but that city officials routinely violated citizens' rights to free speech, freedom from unreasonable search and seizure, and equal treatment under the law.
This was driven by the city's desire to use criminal fines as an increasingly large part of its budget, seeking increases in fine revenue of more 30% year over year—not exactly the sign of a functioning criminal-justice system. In 2015, these fines are expected to make up almost a quarter of the city's general fund, some $3.09 million.
For years, city officials changed police and court practices to issue more tickets and convictions, and built more fines and penalties into the system while disregarding ability to pay—a practice Quartz reported last August: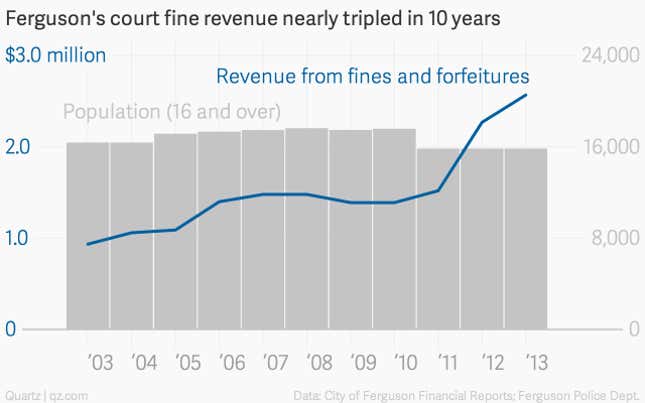 And the DOJ report demonstrates that all of these practices disproportionately impacted African Americans:
African Americans are 2.07 times more likely to be searched during a vehicular stop but are 26% less likely to have contraband found on them during a search. They are 2.00 times more likely to receive a citation and 2.37 times more likely to be arrested following a vehicular stop.
Nuisance charges were deployed by police in an effort to increase citations, and thus fines.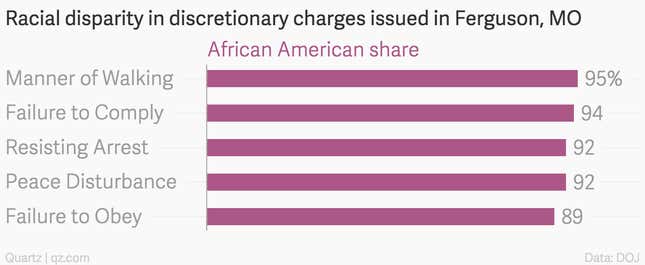 This practices led to deeply inhumane incidents, chronicled at length in the report.
In one instance, for example, a woman called FPD to report a domestic disturbance. By the time the police arrived, the woman's boyfriend had left. The police looked through the house and saw indications that the boyfriend lived there. When the woman told police that only she and her brother were listed on the home's occupancy permit, the officer placed the woman under arrest for the permit violation and she was jailed.
Supervisors expressed racial stereotypes in official communications.
A March 2010 email mocked African Americans through speech and familial stereotypes, using a story involving child support. One line from the email read: "I be so glad that dis be my last child support payment! Month after month, year after year, all dose payments!"
Despite the pressure to increase revenue from fines, the investigation also showed that officials regularly made their own violations disappear with a few words to the relevant colleague.
In October 2013, Judge Brockmeyer sent Ferguson's Prosecuting Attorney an email with the subject line "City of Hazelwood vs. Ronald Brockmeyer." The Judge wrote: "Pursuant to our conversation, attached please find the red light camera ticket received by the undersigned. I would appreciate it if you would please see to it that this ticket is dismissed." The Prosecuting Attorney, who also serves as prosecuting attorney in Hazelwood, responded: "I worked on red light matters today and dismissed the ticket that you sent over. Since I entered that into the system today, you may or may not get a second notice – you can just ignore that."

In November 2011, a court clerk received a request from a friend to "fix a parking ticket" received by the friend's coworker's wife. After the ticket was faxed to the clerk, she replied: "It's gone baby!"
The picture of a minority-white population using officially sanctioned terror to fill the city budget is something like apartheid South Africa—or 20th century America, as the report notes.
Until the 1960s, Ferguson was a "sundown town" where African Americans were banned from the City after dark.
The costs borne by the city's vulnerable population demonstrates the economic cost of discrimination, emphasis added:
We spoke, for example, with an African-American woman who has a still-pending case stemming from 2007, when, on a single occasion, she parked her car illegally. She received two citations and a $151 fine, plus fees. The woman, who experienced financial difficulties and periods of homelessness over several years, was charged with seven Failure to Appear offenses for missing court dates or fine payments on her parking tickets between 2007 and 2010. For each Failure to Appear, the court issued an arrest warrant and imposed new fines and fees. From 2007 to 2014, the woman was arrested twice, spent six days in jail, and paid $550 to the court for the events stemming from this single instance of illegal parking. Court records show that she twice attempted to make partial payments of $25 and $50, but the court returned those payments, refusing to accept anything less than payment in full. One of those payments was later accepted, but only after the court's letter rejecting payment by money order was returned as undeliverable. This woman is now making regular payments on the fine. As of December 2014, over seven years later, despite initially owing a $151 fine and having already paid $550, she still owed $541.
The DOJ lays out several pages of recommendations for an overhaul of the force, to remake it as a functioning law enforcement agency, and says it will work with the city to develop a court-enforced agreement to implement it. But it is unclear what will happen should the city decline to adopt these reforms.