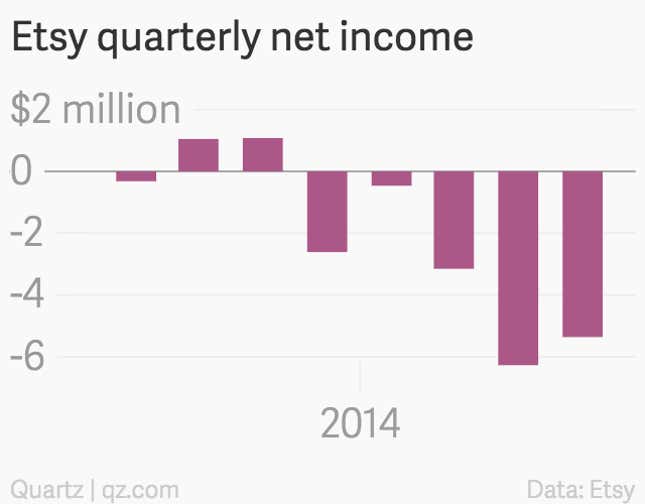 Everyone's favorite twee online crafts marketplace has filed to go public, with Etsy looking to raise some $300 million by selling shares in the public markets, according to Bloomberg. Investors who opt to fork over cash for Etsy stock will receive shares in the Brooklyn-based company. In its filing Etsy touted its 54 million members, 1.4 million active sellers and 19.8 million active buyers. It did not, however, tout its profits. And that's good, because it doesn't have any.
According to the company's audited financial statements it lost $15.2 million in 2014, following a loss of $796,000 in 2013 and $2.4 million in 2012. As for a turnaround, here's what the company had to say in the always-interesting risk factors section of the filing.
We may not achieve or maintain profitability in the future. We expect that our operating expenses will increase substantially as we hire additional employees, increase our marketing efforts, expand our operations and continue to invest in the development of our platform, including new services and features for our members. These efforts may be more costly than we expect and our revenue may not increase sufficiently to offset these additional expenses. In addit ion, as a public company, we will incur significant legal, accounting and other expenses that we did not incur as a private company.