Chinese leaders are targeting economic growth of "approximately 7%" this year, in what would be the country's slowest rate of expansion in a quarter of a century. Premier Li Keqiang announced the target at China's annual parliamentary meeting as he presented the government's "work report (pdf)," Beijing's version of the US State of the Union address.
"China's economic development has entered a new normal," Li said, using a term that officials have been adopted to prepare citizens for an era of slower, more sustainable growth. "Our country is in a crucial period during which challenges need to be overcome and problems need to be resolved."
The 7% target is part of China's efforts to reform its economy to depend less on exports and credit-fueled growth and more on consumer spending and trade. To do that, the country has to balance twin goals of growth as well as financial and economic reforms. "Systemic, institutional, and structural problems have become 'tigers in the road' holding up development," Li said.
Last year's growth of 7.4% fell short of the previous parliament's announced target of 7.5%, the first time the country missed a growth target since 1998. That's likely why Li hedged this year's target by saying "approximately."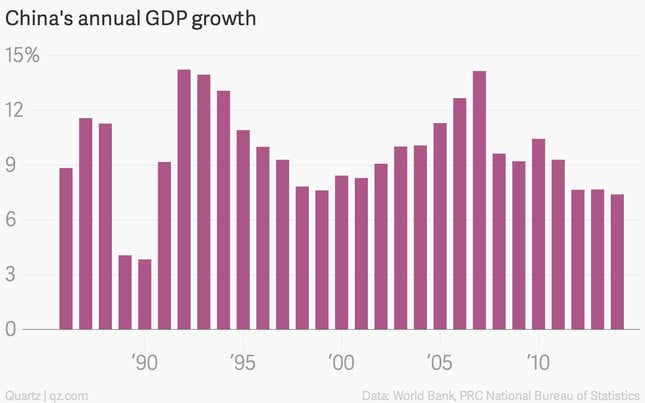 The Chinese Communist Party's popular support depends in part on its ability to provide economic opportunities, and right now the government is pushing job creation. Li said officials aimed to create 10 million jobs in urban areas—last year, a total of 13 million jobs were created, surpassing the initial target of 10 million.