In fashion, there's always a tension between fantasy and reality, art and commerce. At Paris Fashion Week so far, Japan's top designers have dominated when it comes to high art, showing conceptual collections that perfectly embody their ideas. On top of that, their more commercial offerings have been standouts—smart updates of classic items. It's a season in which the country's fashion stars all seem to be working at the peak of their abilities.
Here are some of the highlights:
Junya Watanabe
In one of his most accomplished shows of recent years, Junya Watanabe explored three-dimensional geometry. He riffed on a variety of shapes, including honeycombs and pyramids, and produced some spectacular garments, such as this tiered, iridescent skirt that looked like a frozen shiny black typhoon. He toyed with some similar techniques at his recent spring-summer 2015 show, but here the focus was sharper, the palette more refined. Everything just clicked.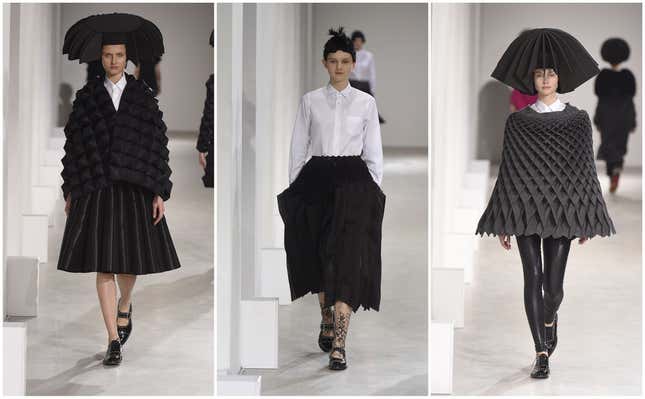 Not all the clothes could be called practical—a draped, finned cocoon wouldn't be an easy garment to wear on the subway or while eating a burrito—but practicality isn't always the point on the runway. It was unusual and gorgeous, and it showed the kind of visual creativity and technical mastery that makes a great designer.
And amid such esoteric pieces were plenty more wearable items, elevated above the mundane with Watanabe's geometric techniques. Highlights included four variations on rider jackets, as well as the series of skirts, all based on repeating three-dimensional shapes, that opened the show.
Comme des Garçons
The founder and designer of Comme des Garçons, Rei Kawakubo, went for pure art with her collection. Working on the theme of the "ceremony of separation," she showed the rituals and attire of mourning in a strange, ethereal collection that made some showgoers cry.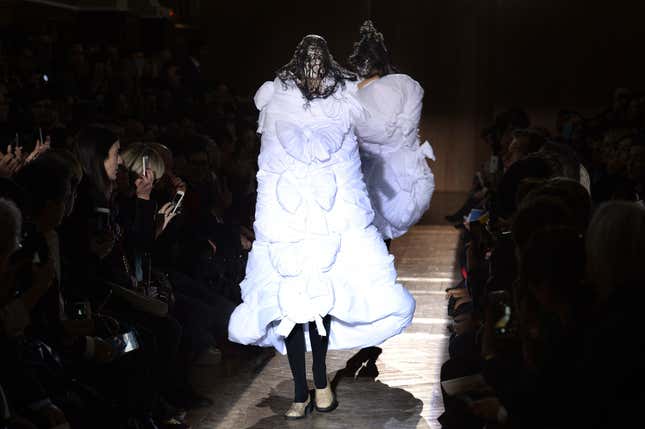 Set to the work of the neoclassical composer Max Richter, the show created a powerful emotional connection with its audience, as the best fashion does, and with it Kawakubo proved for the umpteenth time that she's an endless fountain of ideas, and one of fashion's all-time great artists. It succeeded in all the ways that young label Jacquemus, in its attempt at the fashion equivalent of art brut, fell flat.
Yohji Yamamoto
In Yohji Yamamoto's fall offering, the designer contrasted the simplicity and ease of Grecian draping with wild architectural pieces, some large enough to monopolize the full width of a city sidewalk.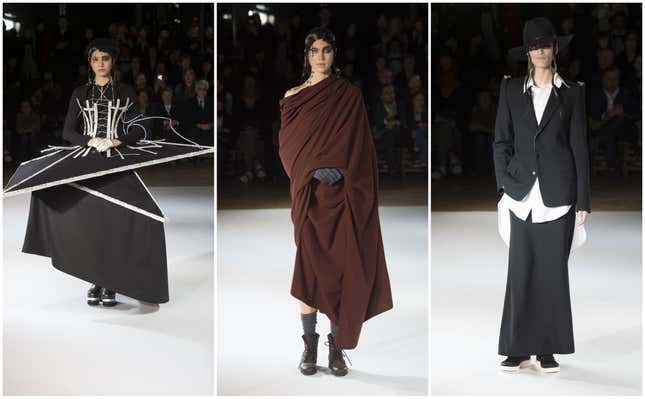 In the mix were Yamamoto's signatures: cascading black coats, oversized black pants, beautiful black jackets. Admittedly they're clothes for a specific audience—those for whom there will never be a "new black"—but for Yamamoto's fans the collection was certain to please.
Undercover and Sacai
The more commercial offerings from Japanese designers were by no means pedestrian. Jun Takahashi of Undercover offered a commentary on our obsession with beauty, presenting models in disturbing plastic masks and garments bearing decorative knives. Among the standouts were Takahashi's oversized jackets, which were more restrained and refined in their proportion play than those from the Parisian "it" brand Vetements, yet still managed to make a staple such as a varsity jacket fresh again.
The Japanese label Sacai presented an outerwear-heavy collection that showed off designer Chitose Abe's talent for mixing and manipulating fabrics. She embossed leather with cable-knit patterns and trimmed futuristic jackets in brightly colored fur. One of the country's biggest talents, her show made it clear why Nike is eager to collaborate with her.
To be sure, non-Japanese designers also did some exceptional work. At Dior, Raf Simons showed a "darker, more sexual" presentation full of striking textiles, including rich neon tweeds and furs multicolored like an oil slick floating on a puddle. Dries Van Noten presented his own spectacular fabrics in a stunning collection of Asian-inspired bohemia. And Alexander Wang turned in his best set of garments yet at Balenciaga.
But even amid this strong showing across Paris's runways, Japan owns the season.