McDonald's big moves in the last few weeks—appointing a new CEO and announcing it will cut down on antibiotic use in its chicken—come amid real trouble for the company. McDonald's announced today that sales at stores open at least a year were down more 1.7% worldwide, and dropped 4% in the all important US market.
That's even worse than analysts expected, and a continuation of a long and worrying decline: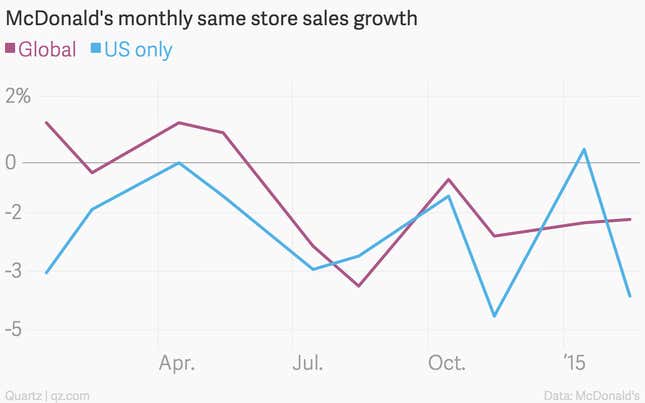 Though the company's new CEO Steve Easterbook may be a much needed new leader, his turnaround plan as described at a conference for franchisees didn't suggest anything particularly novel; the company is still working on putting greater emphasis on ingredients, more customizable options, and better burgers.
McDonald's efforts to that effect have yet to attract converts to more upscale chains like Shake Shack or Chipotle. Customization also detracts from a hallmark of the company: speed (paywall). The customers that order via the drive-thru (a strong majority in the US) won't even have the option, as the custom burgers require waiting at a table to be served.