Tesla has started 2015 on quite a shaky footing.  Consider recent events:
All of this helps explain why Tesla's share price hasn't been doing very well lately. The stock is trading at a 10-month low, and is down about 15% so far this year.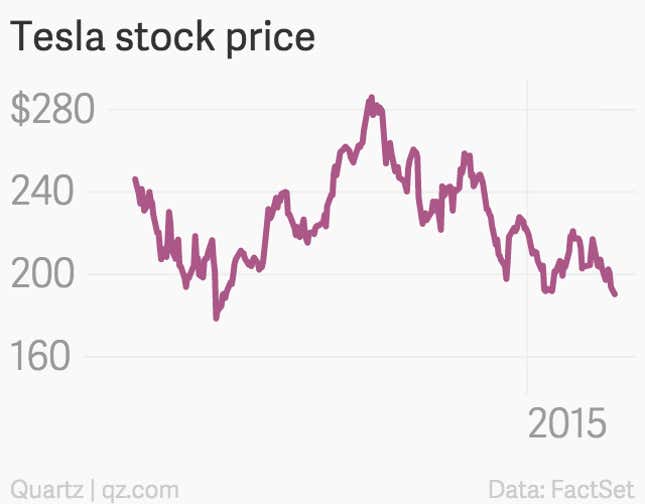 But there's actually a much bigger risk facing Tesla that makes these issues pale in comparison. The company admitted as much in its latest (10k) filing with regulators:
We are highly dependent on the services of Elon Musk, our Chief Executive Officer, Product Architect, Chairman of our Board of Directors and largest stockholder. Although Mr. Musk spends significant time with Tesla and is highly active in our management, he does not devote his full time and attention to Tesla. Mr. Musk also currently serves as Chief Executive Officer and Chief Technical Officer of Space Exploration Technologies, a developer and manufacturer of space launch vehicles, and Chairman of SolarCity, a solar equipment installation company.
The filing notes that Musk is not bound to an employment contract of any specific length and the company has taken out no "key person life insurance" for him or any other senior executives.
"Key person risk" is a well established problem for companies with visionary leaders—think Warren Buffett and Berkshire Hathaway, or Bill Gross and (until recently) Pimco—and Wall Street is beginning to realize that Tesla is very exposed to it. Last month, analysts from Bank of America Merrill Lynch said investors should ask themselves how comfortable they would be holding shares in the company if Musk was no longer CEO.
Tesla's future remains incredibly exciting, but also incredibly unpredictable. No one knows for sure whether it will be able to execute its vision and live up to the hype. That's why its shares are so volatile.
Of course, there is absolutely no suggestion Musk wants to walk away from Tesla. He still owns 23% of the company, according to FactSet, worth about $5.5 billion. That should be more than enough to keep him motivated. The company has not responded to a request for comment on the issue.
Basically, while Tesla has one of the most exciting futures of any company in the world right now, it is a future that is also almost entirely dependent on one man. History has shown it's stupid to bet against Elon Musk, but what if, for whatever reason, he's not around to see his vision through?