And then there were three.
With Brady Dougan's eight-year tenure as CEO of Credit Suisse soon coming to an end, that leaves only Jamie Dimon at JPMorgan Chase, Lloyd Blankfein at Goldman Sachs, and John Stumpf at Wells Fargo as the bosses who have held onto their posts at the world's largest investment banks since before the global financial crisis that hit the sector hard in 2008.
Other banks were quick to eject their bosses in the weeks and months after Lehman Brothers collapsed and markets cratered. Others held fast through the initial turmoil, but later sacrificed their CEOs amid the never-ending legal scandals that have dogged the industry ever since.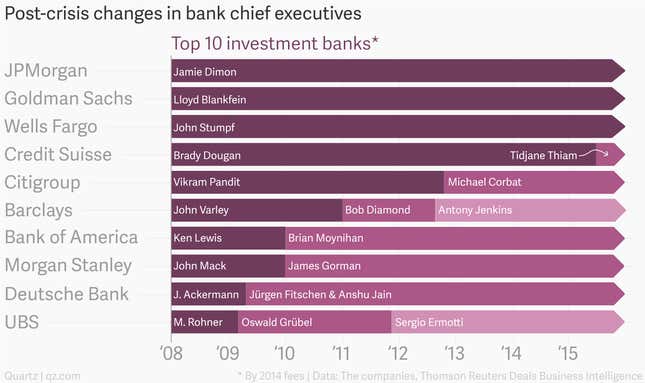 Credit Suisse has faced its fair share of legal trouble—most notably, it was forced to plead guilty to helping Americans evade taxes last year. Still, under Dougan's watch the bank was not embroiled in appreciably more or fewer scandals than many other major investment banks, including those like JPMorgan and Goldman Sachs.
But those scandals have reinforced the image of investment banks as the racy, dangerous, "casinos" of the financial industry, sitting uncomfortably alongside the boring but predictable "utility" businesses of retail and commercial banking. Executives with experience on the utility side are increasingly taking all the top jobs. Brian Moynihan at Bank of America, Antony Jenkins at Barclays, and Ross McEwan at RBS all had deep experience in the humdrum world of retail banking before taking over as CEO of their respective companies.
Michael Corbat at Citigroup previously spent time in charge of the group's "bad bank" unit, cleaning up and selling off the toxic assets acquired by the company during the boom before the bust. He replaced Vikram Pandit, who had come to the bank from a hedge fund. And Société Générale promoted CFO Frédéric Oudéa to CEO when it needed to steady the ship.
Credit Suisse's succession plans are similarly telling. Dougan's replacement, Tidjane Thiam, will join the Swiss bank from British insurance group Prudential in June. By choosing a new boss who spent more than a decade in the insurance industry, Credit Suisse's board has shown a clear preference for conservatism and risk aversion. The markets seem to approve—Credit Suisse's shares jumped about 8% higher on the day.