The healthcare system in the United States is heading toward a recalibration. Generally, individuals are shouldering more of the financial burden of their healthcare and are more involved in medical decision-making, resulting in rising consumerism. In designing their strategy, industry players should take into consideration three shifts that are helping to transform the healthcare landscape and setting the scene for greater consumer involvement.
Shift one: Market dynamics turn to the consumer
Financial risk in healthcare is shifting from payers and groups to individuals, who now need to pay a greater share of healthcare costs in the form of higher premiums, deductibles, and coinsurance. This shift is encouraging these individuals to more actively navigate the healthcare system and get the best value from their spending. However, some consumers are unaccustomed and ill-equipped to manage the risk, while others recognize the change, but may not like it.
Healthcare organizations should re-orient themselves around greater transparency and communicate the value of products and services in a manner that supports the comparison of cost and quality information.
Shift two: On the demand side, consumer options are proliferating
In addition to bearing a greater share of healthcare costs, individuals are inundated with an increasing number of choices. As a result, consumers are expecting more from their healthcare services. The traditional healthcare system, unused to dealing with consumerism, now needs to gain a deeper understanding of consumers' attitudes and behaviors.
Stratification by health status, care utiliza­tion patterns, and longitudinal or lifelong relationships with individuals can inform these analyses. Consumer segmentation can lay the foundation for marketing and outreach strategies, as well as care management processes. To help clarify the current consumer landscape, a Deloitte Center for Health Solutions survey has identified six archetypes based on consumers' level of engagement with the system.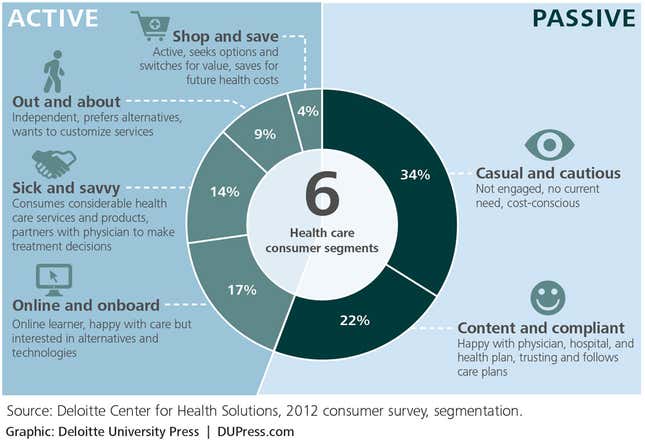 Shift three: Many new entrants view healthcare through a different lens
As payment models and patient expectations continue to evolve, new entrants ride the next wave of innovation in the healthcare industry. Startups often target clinical delivery, health and wellness, population health management, data, and analytics. Many see consumers as a natural entry point and are built to support patient engagement. These companies help patients manage their health and care by providing them with the information, skills, capabilities, and support they need to make smarter choices.
To be effective in this new landscape, incumbents should build lifetime relationships that resonate with people in a consumer-friendly, retail-oriented, and technology-driven system. They should work out strategies that build upon five factors: a) enhanced transparency—of costs, quality, processes, and services; b) educating, informing, and supporting consumers; c) understanding consumer behavior and how preferences can shape attitudes and behaviors; d) connecting with new players; and e) getting the right talent—creative designers, data scientists, and behavioral economists—to help put the above suggestions into action.
Read more about the consumer-driven culture of health here.
This article was produced by Deloitte and not by the Quartz editorial staff.