The latest numbers from China's Ministry of Finance came with a few nasty surprises.
Total government income in January and February dropped 6.3%, compared to a rise of 7.1% a year ago, due in part to a 36.2% drop in proceeds from land sales, Deutsche Bank reports. And total government spending grew by just 2.6% in the year to date, versus 6.4% a year ago.
"This fiscal shock came in worse than we had expected," Deutsche Bank's chief China economist Zhiwei Zhang wrote in a March 17 report. "We believe the fiscal slide has caught the government by surprise."
Zhang pointed out that the National People's Congress just last week approved a 2015 budget (pdf) based on Ministry of Finance revenue figures for this year that do not jibe with the current reality, or with Deutsche Bank's own forecasts:

Chinese premier Li Keqiang admitted yesterday that China will struggle to meet its lowered GDP growth target of 7% in 2015, and that the country's economy is slowing much faster than expected.
Land auctions make up a huge chunk of local government revenues—an estimated 40% in 2013—and account for a big chunk of China's GDP. They've been dropping drastically in recent quarters as the property market cooks, giving the government less revenue to spend in the coming year. The value of land sales attributed to government fund income dropped 46% in the January-February of 2015 from the year before, Deutsche Bank said.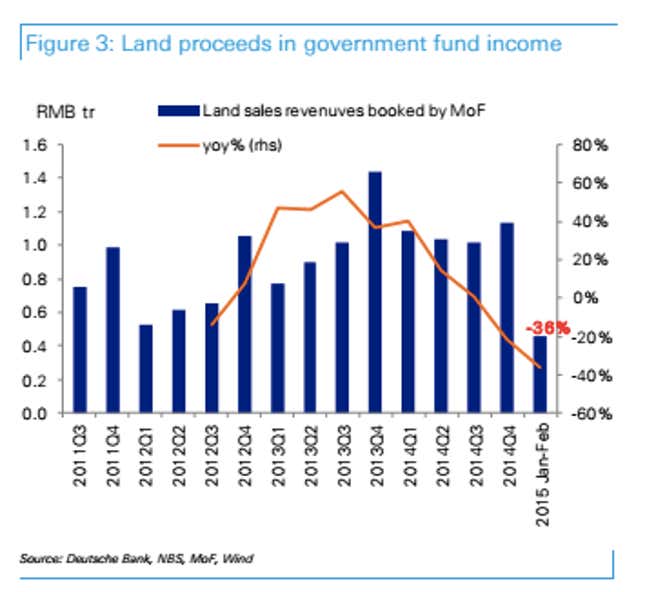 Zhang predicts a "big fiscal financing gap" of as much as 2.4 trillion RMB ($383.5 billion) in  China's budget this year. That could prompt Beijing to ease monetary policy further, and launch a new round of money-raising initiatives.