Global innovation has become a three-horse race. Three countries—the US, Japan and China—accounted for over 60% of patent applications in 2014, according to a report released by the World Intellectual Property Office (WIPO) today.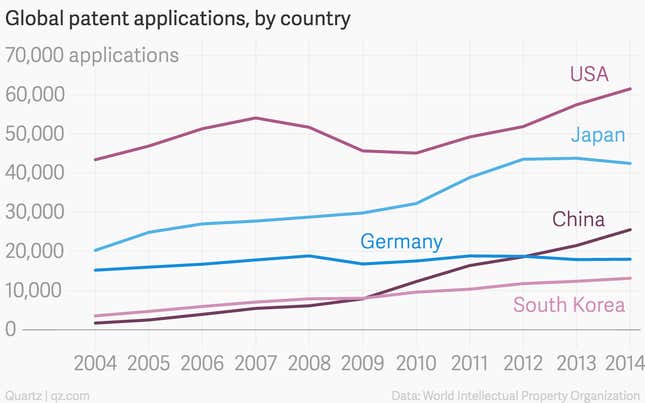 The US continues to lead the pack, and has blown past its pre-recession output. "Patent filings do tend to go along with business cycles," Carsten Fink, the chief economist at WIPO, tells Quartz. When companies are looking for something to cut during a recession, often they will look at the cost of filing patents—although not necessarily the research that produces them.
The US had six companies in the top 25 patent applicant list: Google, Intel, Qualcomm, Microsoft, HP, and United Technologies. Companies can apply for a patent through WIPO for patent protection in 148 countries.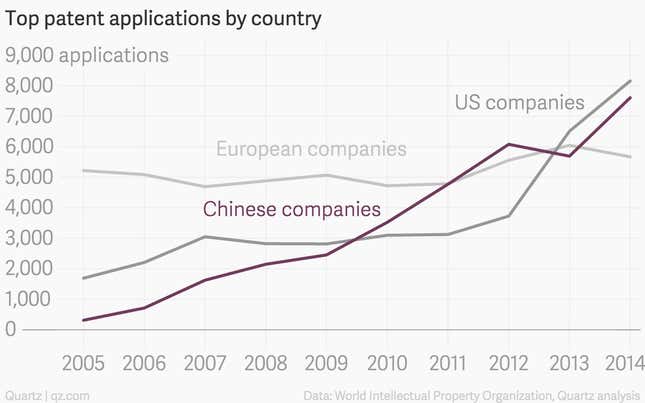 Only four of the top 25 companies applying for patents in 2014 were Chinese, but they were busy.Huawei, ZTE, Tencent and Shenzen combined to apply for over 7,500 patents, just trailing the roughly 8,000 by top US companies. Fink says China's patent push is part of the larger trend of the country's economic growth over the past two decades, which has resulted in a greater investment in research and development, both by the Chinese government and private companies.
Here's the full list of the top 25 companies: