On the surface, Lagos, Nigeria's commercial capital, seems to be an opposition stronghold for those seeking to oust President Goodluck Jonathan from office in two weeks.
After all, state governors here for the last 16 years have been members of the All Progressive Congress (APC), the political party that has fielded former dictator Muhammadu Buhari for president.
The party leader and power broker, Bola Tinubu, was the governor of Lagos between 1999 and 2007 and is often referred to as the political godfather of his successor, Babatunde Fashola, who is himself coming to the end of his second term.
Across this African mega-city of 20 million residents, there seem to be more APC flags flying, but Jonathan and his People's Democratic Party (PDP) are by no means ceding Lagos to Buhari and co—even though APC's predecessor party, ACN, won Lagos with 81% of the vote.
The president visits often from the federal capital, Abuja, and sometimes that includes campaigning with Lagos-based voting blocs. It's easy to know when he's in town: Air and road traffic jams snarl up the city, even worse than the legendary daily Lagos traffic gridlocks. It's also easy to understand why he's been here so often. Lagos state is the most populated state and will likely be decisive in who wins the presidency.
As the Washington Post put it:
Not only does Lagos state have more people than many African countries, its gross domestic product (estimated at $91 billion by the current administration) dwarfs even Kenya's ($55 billion)
While Lagos is dominated by Yorubas from the southwest, it is a melting pot of people from all over the country. Buhari is a Muslim Hausa/Fulani man from the north of the country. Many here have told me that APC could win the state in parliamentary and governorship elections but Jonathan could carry Lagos for the presidency as he did the last time he ran.
"My man Goodluck"
"I will vote for my man Goodluck," Lawrence Oshiobe, 45, a chauffeur, told me. Buhari, he says, is out of the question. "I don't want the Hausa man to go in. I look at him as Boko Haram, so let me cast my vote against Boko Haram."
It's not an easy process to vote. First you have to register. Then you go back to collect the permanent voter cards (PVCs) so you can vote on March 28 and April 14. Lines to pick up the PVCs in Lagos have been long and Oshiobe waited on his weekends off to ensure he could cast a vote.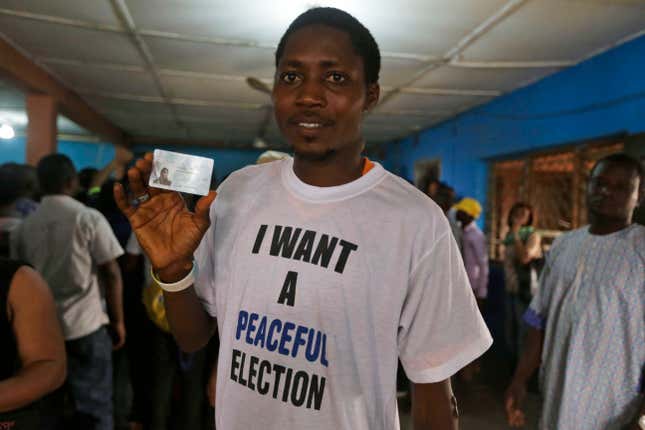 Others told me that APC's media savvy and social-media presence could make one assume they had this locked up. But many young people are apathetic here. Enough to eat away at Buhari's support considerably.
For instance, Sadik Anifowoshe, 27, a clerk/delivery man, immediately mentions APC as his party; he says his uncle is a politician and predicts victory. But then he admits he's not voting in two weeks.
He didn't even bother to register.
"No I didn't. I don't like to vote. I'm not interested," he said. "If I had time I would have [but] and I'm not interested. I don't like it."
Kate Okporuanefe, 28, also isn't voting, but not because she isn't interested.
"There was one time I went to register the queue was much, so long so I couldn't wait. I tried somewhere else if I could register but there was a queue also," the receptionist said.
She works all week and her time on the weekends is precious. "The only time I could register, I'm at church or doing one thing or the other."
No fresh faces
Raymond Bernand, 33, didn't register because none of the candidates appeal to him, so he's consciously and proudly sitting it out.
"I'm tired of seeing the same old faces wanting to rule the people. We should elect new people. I think we should do something different, something fresh," the office manager said.
These sentiments, plus the fact close to 2 million Lagos residents—40% of eligible voters, who queued to register have not yet gone to queue again to pick up the voter cards—emboldens Jonathan's PDP supporters that Lagos is in play for the presidency and possibly the governorship. Some of them went on an unruly rampage on the streets this week.
Even though PDP party officials said they had no role in what those supporters did, APC bigwigs warned this was a harbinger of violence in less than two weeks. They have threatened to go to the International Criminal Court.
Bernard said APC would have gotten him to go register if they had recruited a new candidate not tainted by a history in politics. Plus he believes in one term per candidate, so Jonathan wasn't going to get his vote anyway.