So this is awkward. Peer-to-peer lending websites are having trouble finding people who want to borrow money.
Companies like Lending Club, Prosper, and Social Finance, which use technology to link borrowers with other individuals who want to lend to them, have been wildly successful. Since Lending Club went public last December, speculation has swirled about IPOs by Prosper and Sofi.
Wall Street bankers and money managers are paying attention. Earlier this year, the world's largest asset manager Black Rock bought $330 million of consumer debt through Prosper. And firms have flooded the peer-to-peer platforms with billions of dollars. The influx of Wall Street money comes as record low interest rates make it increasingly difficult to find higher-yielding investments. The interest rate on a Lending Club loan can range from 7.5% to 25%, much higher than many other investments. (For example, the Barclays US aggregate bond index, a broad gauge of the US bond market, currently yields a bit more than 2%.)
There's only one problem. Many peer-to-peer lending companies are seeing more demand from investors who want to lend money than there are borrowers who want to take out loans. Nearly 50% of whole loans on Prosper are now being snapped up by investors in less than 10 seconds, according to Orchard Platform, which links institutions to marketplace lending.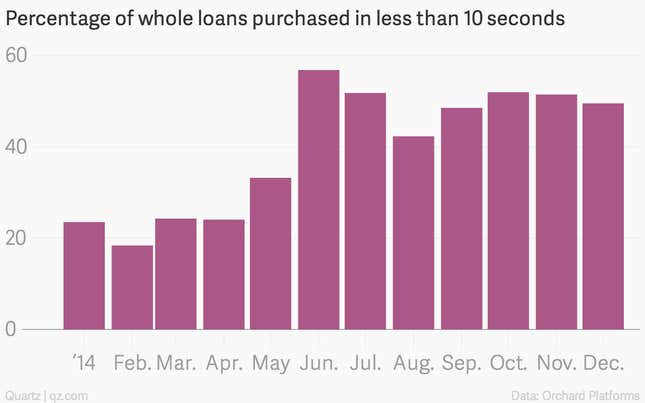 "There's no doubt there's an imbalance," Prosper President Ron Suber tells Quartz. "Prosper needs borrowers."
To attract credit-worthy borrowers, Prosper is partnering with companies like Spirit Airlines, which now offers mileage rewards for borrowers who sign up for loans.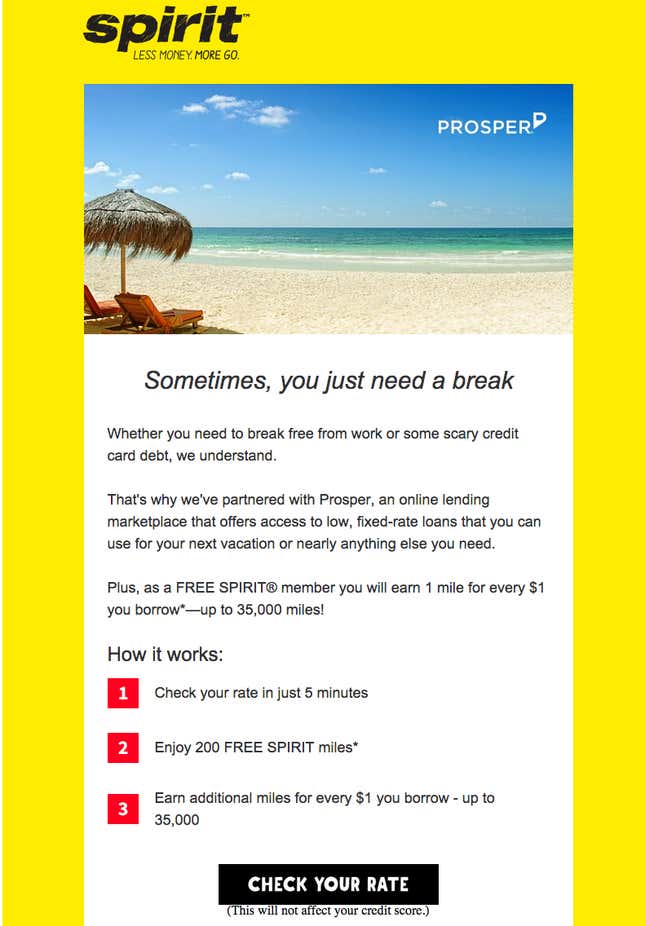 To gain access to new types of borrowers, Prosper also spent $21 million in January to buy American Healthcare Lending, which helps doctors make loans to patients wanting elective medical procedures like liposuction and fertility treatments. Lending Club bought a similar financing company for $140 million last year.
And Prosper and Lending Club have both been striking partnerships with community banks in the US, which can refer loans they don't want to the online lenders. It's a practice already underway in Britain, where the government is trying to make referrals compulsory to boost lending and jumpstart the economy.
For its part, Lending Club says it's "neither supply or demand constrained," CEO Renaud Laplanche told Quartz, pointing out the amount the company spends on sales and marketing actually dropped to 37% of revenue in 2014 from 53% in 2012.
The industry will also likely get a borrower boost once interest rates rise and if the Securities and Exchange Commission follows through on plans to lower the bar for qualified investors.
Sure, marketplace lending makes up less than 1% of the world's loans and companies like Prosper and Lending Club say they have no plans to change their stringent underwriting standards, but the marketing overdrive is certainly worth keeping an eye on.
If the subprime mortgage collapse during the last decade taught us anything, intense competition for borrowers can lead to looser underwriting standards. And offering unsecured loans to borrowers who can't pay them off—especially through less-regulated online lending platforms—can only end badly.