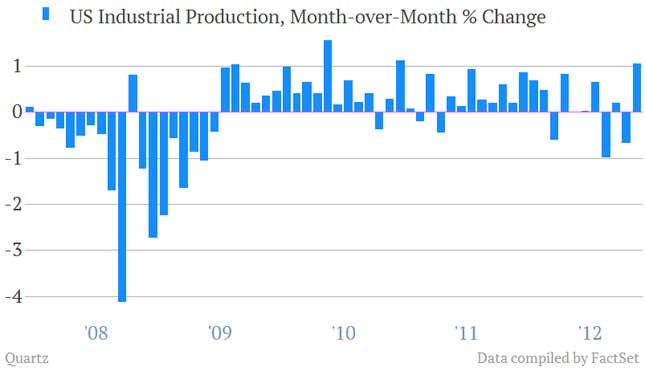 US industrial production—a composite of manufacturing, mining, utilities, and activity in other business sectors—surged in November, rising 1.1%. That far surpassed most of the optimistic estimates from Wall Street; consensus there was that industrial production would rise by 0.3%.
This is interesting for two reasons: first, it suggests that the impact of Hurricane Sandy has been muted. "In prior hurricanes, the impact on industrial production was substantial; case in point, IP fell -2% month-on-month following Hurricane Katrina. However, our IP model now shows an increase for the month (+0.2%)," writes Joe LaVorgna, the chief US economist at Deutsche Bank. Industrial production grew across the board in every single industry.
More importantly, it suggests that US growth is really gaining momentum, and that the impact of the dreaded fiscal cliff—an austere combination of spending cuts, tax increases, and a debt ceiling debate—may not be as significant as some feared. To produce goods, companies need to make investments, and the latest round of industrial production data suggests that they're actually doing just that.