This piece is being updated as news comes in.
An Airbus A320 operated by Germanwings, the low-cost carrier owned by Lufthansa, has crashed in the French Alps. French president François Hollande said he did not expect any survivors among the 144 passengers and 6 crew members, most of whom are likely German, the Associated Press reports.
A rescue operation is underway, but the remoteness of the crash site will make the search and rescue operation "extremely long and extremely difficult," said Pierre-Henry Brandet, the French Interior Ministry spokesman. He told the AP that the plane sent out a distress signal at 10:45 am local time, before crashing in the mountains, at an altitude of about 2,000 meters (6,550 feet).
Some pictures of the rescue operation are being posted online.
Germanwings has confirmed the crash and said there were 150 people on board. They are mostly German and Spanish and probably some Turks, according to Hollande. Germanwings said there likely were 67 German citizens aboard, and that two babies were on the plane.
During a press conference, Germanwings said that the plane lost altitude for about eight minutes, though the reason for the crash is still unknown. The company has also said the captain, who it did not identify, had been flying with it for over 10 years and had flown over 6,000 hours on Airbus A320 planes.
According to data from Flightradar24 and Planespotters.net, the aircraft was more than 24 years old and has been flying with Lufthansa and Germanwings since 1991. It started the day with a flight from Düsseldorf to Barcelona before crashing on its return as flight number 4U9525/GWI9525.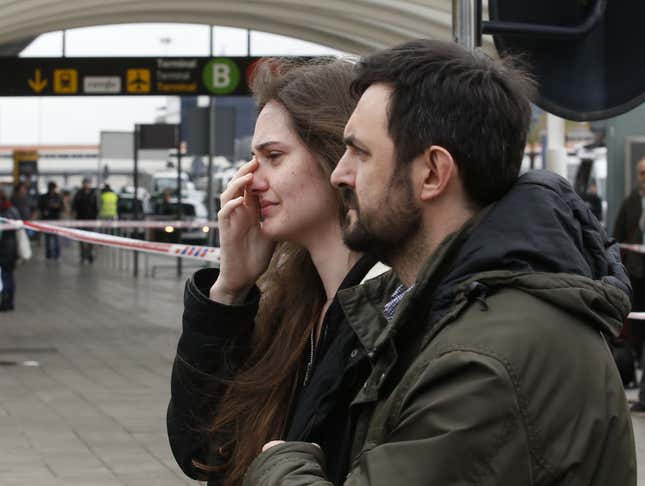 French fighter planes are circling overhead, with bigger support aircraft expected later. According to AFP, the French news agency, military aircraft are circling to provide radio links.
"At 1,700 metres, the radio doesn't work as the mountains block signals," Colonel Jean-Pascal Breton of the French air force told AFP. "To coordinate the operation you need radio links. That is what the fighter aircraft are doing. So the helicopters talk via the airborne plane."