Brazilian private equity firm 3G Capital Partners is reportedly in "advanced talks" to buy Kraft Foods Group in a deal that could be worth $40 billion. A takeover by 3G, which bought ketchup maker HJ Heinz in 2014, would put a dizzying array of America's classic, and somewhat outdated, food brands into the hands of a firm known as Brazil's "buyout kings."
Kraft Macaroni & Cheese. Oscar Mayer. Jello. Velveeta. Kool Aid. Capri Sun. Cool Whip. Shake N'Bake. Kraft's product line reads like a list of the best hits of American processed food of decades past—and the company's weak results of late reflect the fact that appetites are changing in the US and around the world.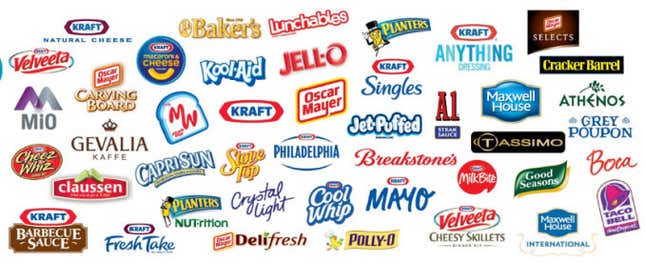 Kraft's earnings fell 62% last year, part of a general downturn in a packaged food industry that's been hurt by a shift in consumer preferences toward fresher, less processed, more local foods. In December, former Pepsico CEO John Cahill became chief executive of Kraft, and said he would "take a fresh look at the business."
In February, Kraft's CFO and two other executives stepped down as the company reported a fourth-quarter loss of $398 million, due mainly to pension-related costs, and overall sluggish demand for packaged foods in the US.
The reported price tag on the potential deal between Kraft and 3G would represent about an 8% premium to Kraft's market value before news of the takeover talks first broke in the Wall Street Journal.
How 3G would propose to turn around the company's flagging sales is still unknown. After teaming up with Warren Buffett in 2013 to buy Heinz, 3G put the condiments company on a rigorous cost-cutting plan (paywall) that has slashed jobs and closed plants. Quartz has reached out to 3G and Kraft and will update this post as warranted.