Sweden has long been progressive on gender egalitarianism, and now its language is officially catching up. A gender-neutral pronoun, hen will join its binary counterparts han (he) and hon (she) in the new edition of Sweden's official dictionary, helping Swedish speakers avoid the sort of linguistic gymnastics common in languages without a gender-neutral alternative.
Efficient in a variety of situations, hen, as AFP notes, can be used when you don't know the gender identity of the person in question, when the person is transgender, when you don't want to reveal a gender identity, or when gender identity simply seems irrelevant in context. It is one of 13,000 new words chosen by the Swedish Academy for inclusion in its updated dictionary, which will be made available on April 15. (Founded in 1786, the Swedish Academy is an independent cultural institution that works to uphold the "purity, vigor and majesty" of the Swedish language.)
Gender equality is, of course, a proud cultural tradition in Sweden, which currently ranks fourth on the World Economic Forum's Global Gender Gap Report, behind Iceland, Finland, and Norway. "Gender equality implies not only equal distribution between men and women in all domains of society," the Swedish government proclaims on its website. "It is also about the qualitative aspects, ensuring that the knowledge and experience of both men and women are used to promote progress in all aspects of society."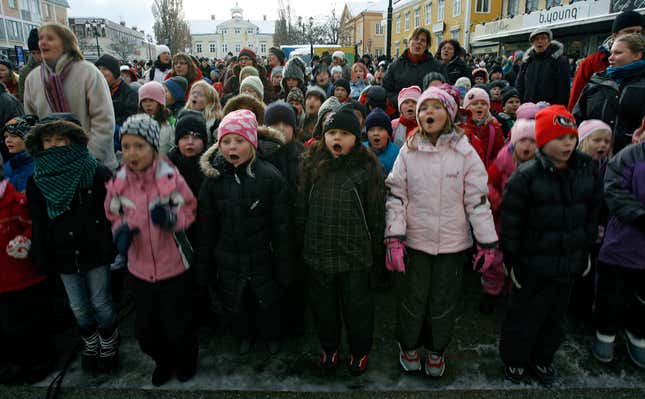 Indeed, hen has been used in Sweden with varying success since its introduction in the 1960s. But the pronoun enjoyed a surge in popularity a few years ago, especially among early-childhood educators. "Sweden is really the pioneer," Lann Hornscheidt, a professor of gender studies and linguistics at the Humboldt University's Center for Transdisciplinary Gender Studies, told Newsweek last September. "No other country has made such an effort to break down gender barriers among children."
While gender-neutral language already is prevalent in dozens of cultures around the world, Western society has been more reluctant to make official changes to the traditional masculine/feminine pronoun structure. According to Dennis Barons, a linguistics professor at the University of Illinois, more than 80 different English gender-neutral pronouns have been introduced since 1850; few, if any, have gained mainstream traction. (Instead, we commonly resort to stilted language or ungrammatical sentence construction.)
Perhaps Sweden's high-profile codification of a more utilitarian concept will inspire other linguistically progressive nations to follow suit.