BASEL, Switzerland—"I was expecting a smartwatch tsunami." That's what a senior executive from a luxury watchmaker told Quartz at Baselworld, the enormous annual trade fair for the watch and jewelry industry. After all, it was the first edition of the show since Apple unveiled its much-hyped smartwatch.
But aside from a handful of "connected" watch launches from the likes of Tag Heuer, Gucci, and others, the flood of cloud-connected timepieces did not materialize, at least not at the volume that some industry insiders anticipated. From the conversations that Quartz had with some of the biggest brands at the top end of the market, Apple's intrusion into the industry is either nothing to fear, or may actually be a good thing.
Of course, now that the established brands have seen what Apple's smartwatch can do, they have had time to craft their responses. Two years ago, bespoke European watchmakers in Basel were openly dismissive of Apple's rumored watch project—sniffy, even. "We're not going to lose one customer," a luxury house representative told Quartz at the time.
Get smart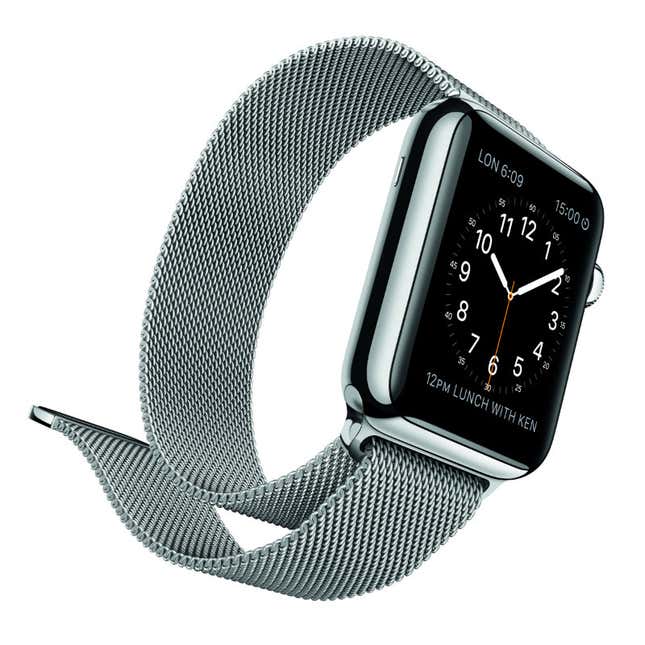 It's a different story today—Apple's invasion is a "kick in the ass" for the normally staid industry, one exec says. (Mind you, it's the other watchmakers at the fair that should be the most worried, the person added.)
At the very top of the market—Breguet, Patek Philippe, Rolex, and the like—the $17,000 it will cost for a gold "Edition" model of the Apple Watch is little more than a downpayment on flagship pieces that can run two, three, or even ten times more. (A common joke around the booths of Baselworld was to emphasize "smart" in the non-technological sense of the world—"now this is a smart watch," "our watches are already smart," and so forth.)
Even so, for brands where special features and functionality are selling points, the Apple effect is apparent. In announcing its first steps into smartwatches, Tag Heuer revealed an arrogance common in the proud and conservative Swiss watch industry but jarring to casual observers. It might as well give these electronic doodads a go, the watchmaker seemed to suggest, because the industry was badly burned when it haughtily underestimated battery-powered timepieces in the 1970s, leading to the so-called Quartz Crisis. It doesn't want to be caught out again.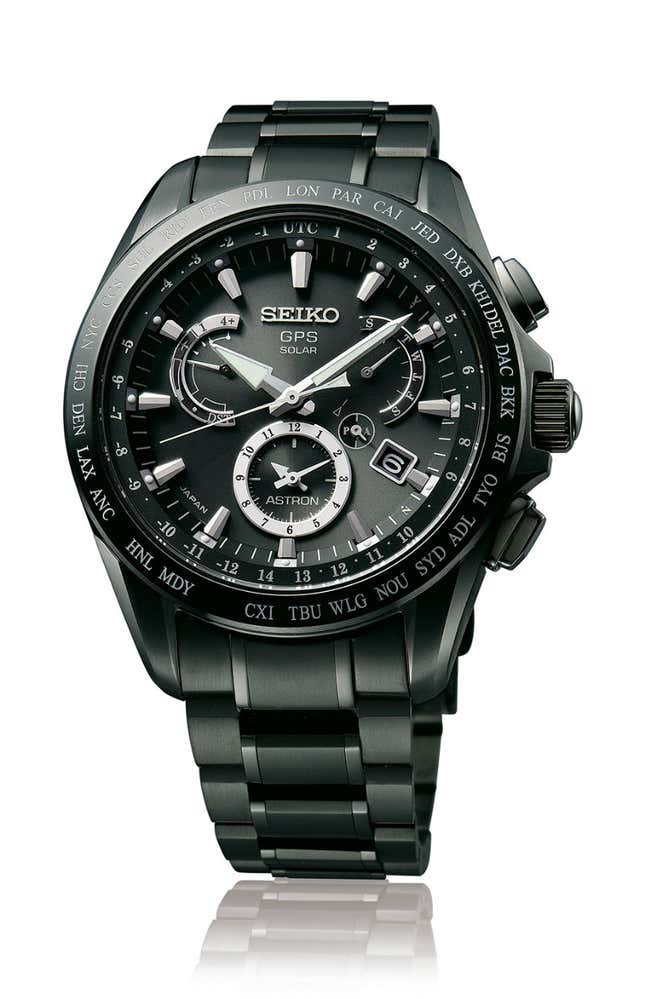 The company that was doing the disrupting back then was Japan's Seiko, which this year announced a refresh of the Astron—the original line that brought quartz to watches, and the Swiss mechanical-watch industry to its knees. The solar-powered watch—six minutes of sun is enough for one day of power—automatically sets the time via a GPS link and costs around $2,000.
Of software-laden smartwatches, Seiko's Noboru Miyadera says you "cannot call them watches," echoing a common industry refrain. But he "respects the ideas" behind connected watches and, like other companies with similar prices and feature sets, Seiko is keen for young people to get used to wearing something—anything—on their often bare wrists. That, the thinking goes, will make them more likely to become eventual buyers of an Astron or, if they really catch the watch bug, a limited edition gold Grand Seiko, which starts at around $16,000.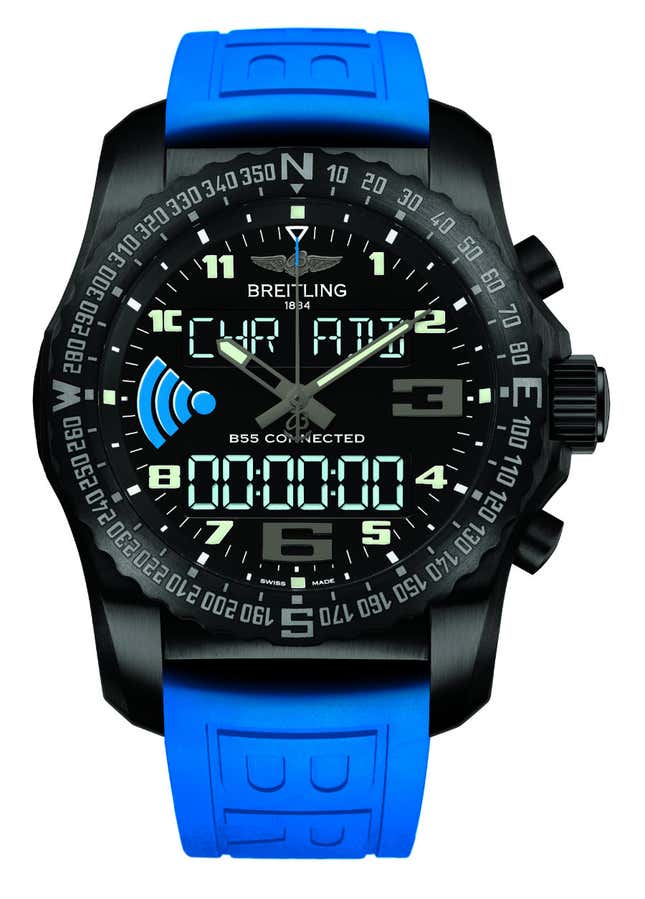 Breitling's B55 Connected was one of the most prominent smartwatches to be announced by a traditional Swiss watchmaker in Basel. Still, the "watch remains the master," notes vice president Jean-Paul Girardin. The accompanying app—made in Switzerland, like the watch itself—serves only to support various timekeeping and chronograph functions. "There was no question of turning a watch into an extension dependent on a phone and less high-performance than the latter," Breitling's marketing material reads. The watch is expected to start at around $7,500.
In person, Girardin is convivial about the Apple Watch. It brings a new "energy and dynamism" to the industry, he tells Quartz. The hoopla around Apple's entry into the industry has attracted press attention for Breitling from media outlets that never covered the company before, he says: "You know, geeks."
All the time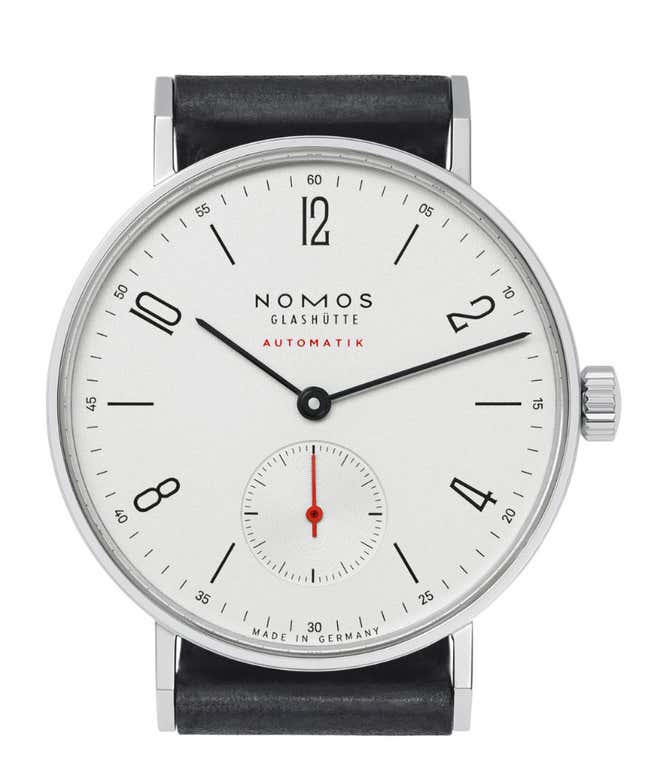 It will take time to see whether or not the Apple Watch serves as a gateway to dropping five or six figures on a Hublot Big Bang or Omega Speedmaster. But the change in tone by watch industry bigwigs is significant in itself—traditional bespoke watchmakers are not quick to compliment, or even acknowledge, their rivals. In the short term, at least, the younger, edgier, and (relatively) more affordable brands like Nomos Glashütte or Shinola may be best placed to attract Apple Watch buyers if they acquire a taste for retro mechanical timepieces that serve as a fashion statement instead of a Facebook interface.
Some 150,000 people come to Baselworld every year to see 1,500 brands show their newest wares; one executive recently said (paywall) that his firm inks more than $20 million in deals with retailers and distributors every day of the eight-day fair, which ends today.
However brilliant the Apple Watch may be, it won't suddenly shut down this centuries-old industry. At the same time, traditional watchmakers' heritage and prestige won't fully shield them from a tech behemoth with money to burn and a determination to expand.
The best case for both sides is that there is a large, untapped market of people who haven't yet strapped a pricey device to their wrist. Once they do, the hope is, they will be compelled to buy more different kinds.