Today at Baselworld, the international trade fair for watches underway in Switzerland, Gucci announced it would release a smartwatch in a partnership with will.i.am. The creators say the watch, which they have opted to call a "smartband," is "untethered to any phone."  They have yet to announce specifics about distribution, pricing, or its release date, but already the watch is running behind the times.
Over the last few months, Gucci's new creative director Alessandro Michele has taken the brand in a bohemian, romantic, and androgynous direction.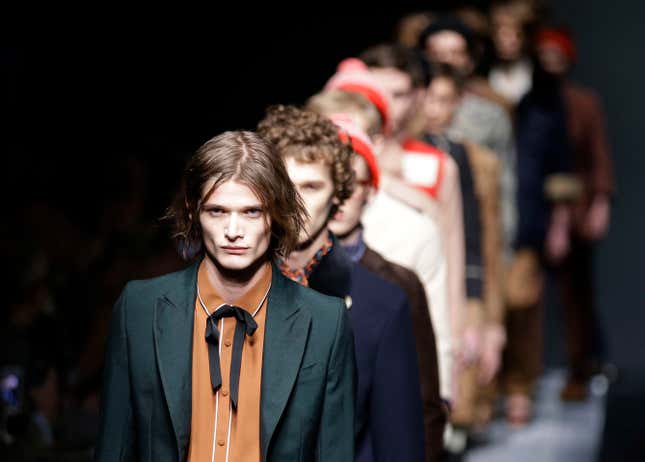 It's been a refreshing change from the slick, ostentatious Gucci we knew from days gone by. That aesthetic, which appeared to be tailored to aspiring European playboys, also wasn't helping Gucci's bottom line.
The problem is, this watch looks 100% "old Gucci." If it succeeds, it will only muddy Michele's progress in rebranding the label. (Quartz contacted Gucci for comment, and will update this post should we receive one.)
More than likely though, the watch will flop. A person who wants a watch to send and receive calls and text messages, track their activity, and map their location will probably buy a model by Apple, or even Tag Heuer. That brand, which is owned by Gucci's luxury rival LVMH, announced today that it will release an Android version.
In a statement about Gucci's new smartwatch, will.i.am proudly proclaimed that he "coined the term 'fashionology' …a merging of the worlds of fashion and technology." Unfortunately for Gucci, this won't please either one.