The share of UK-produced electricity that came from renewable sources increased by a fifth in 2014, compared to the previous year, making up almost 20% of the country's total electricity production.
Onshore wind and bioenergy, which includes sewage sludge and anaerobic digestion, were the biggest contributors to the 64.4 terrawatt hours of electricity produced from renewable sources. The number was 20% higher than the previous year's total, according to a report from the UK Department for Energy and Climate Change.
Production from offshore wind and hydro power also saw double-digit rises in percentage terms. The most dramatic advance was in solar photovoltaic energy, where production of electricity increased by over 90% from 2013—though from a very low base.
In total, renewables produced 19.4% of all the electricity used in the country, more than ever before. In 2013 renewables accounted for 14.9% of electricity generated.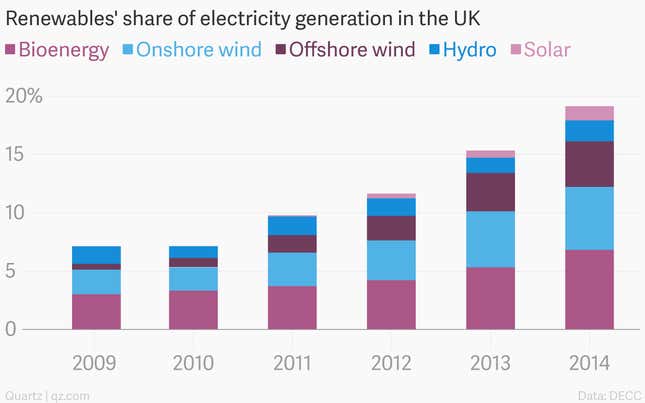 This is progress, but renewable supporters are quick to point out that there's still a ways to go. Electricity generated is not the same as total energy used, which includes much energy used for heating and most of that used for transport.  And the UK still imports the fossil fuel that it burns to make most of its electricity. It bought in 40 million tons of coal and enough gas to produce hundreds of terrawatt hours of electricity in 2014.
And the UK is still lagging behind a lot of other countries in terms of the percentage of its electricity produced sustainably. Denmark achieved almost 40% of its domestic electricity needs from wind alone. Costa Rica has managed to generate 100% of its electricity from renewable sources for several weeks.
But neither of these countries have anything like the population or consumption needs of the UK—or Germany, which is a heavyweight in terms of installed capacity but is still several percentage points away from the 2020 goals that some countries have already hit.