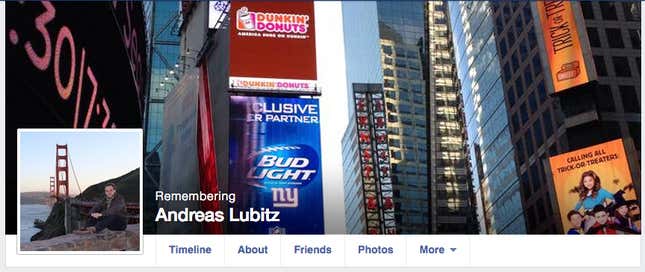 The Facebook page of Andreas Lubitz, the co-pilot of Germanwings flight 9525 who French prosecutors say "deliberately" crashed the aircraft, is back online after being taken down.
The page does not reveal a great deal about Lubitz. His likes include Germanwings, the airline he flew, and Lufthansa, its parent company, as well as other aviation related topics such as A320 technical and aviation humor. His music tastes run to German electronic. He was a member of a Facebook group for people of Montabaur, where Lubitz lived.
Facebook declined to comment on whether the page is real. Some of the posts and "likes" on the page are from 2010 and 2011, suggesting that it is authentic. (Back-dating posts and "likes" like those isn't allowed on Facebook.) Other pages claiming to be Lubitz's, plainly hoaxes, have sprung up since the crash. Some have already been removed, as have some fake Twitter accounts.
When someone passes away, family members or close friends can request that the page be "memorialized." A memorialized page shows the word "Remembering," next to the member's name. It functions as "a place for friends and family to gather and share memories after a person has passed away," according to Facebook.
Quartz's full coverage of the Germanwings crash can be found here.