The great Chinese equity juggernaut rolls on. The Shanghai composite is up 14% this year, compared with the S&P 500's sickly -0.1% performance. This, as we've noted, is a bona fide mystery: China's economy is sputtering and yet its stock market only flies higher.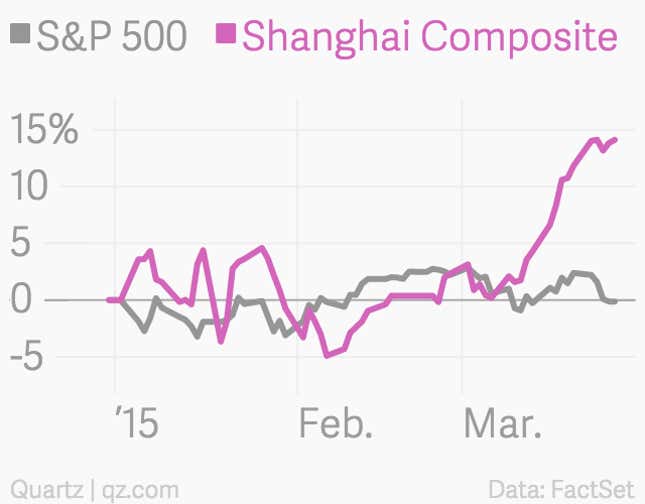 The tanking housing market is one likely culprit, as is the recent zeal for margin trading, often funded via shadow banking (off-balance-sheet finance).
Well, here's perhaps an even more worrying new clue to the mysterious rally, via Bloomberg economist Tom Orlik: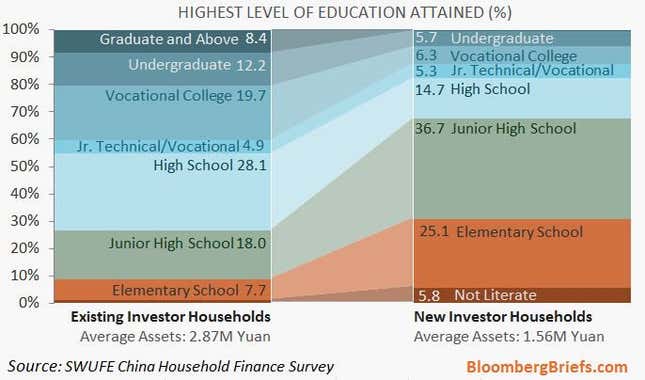 New brokerage accounts have surged since China's bull market got running mid-2014. The number of new trading accounts hit a five-year high in early March. But as you can see in the chart above, a lot of those new investors probably aren't the savviest.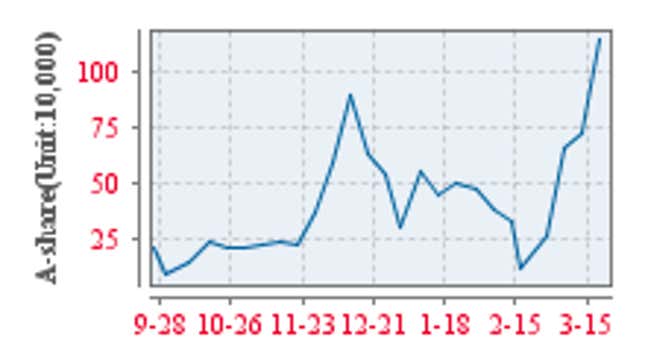 Some 67.6% of households that opened new accounts in the past quarter haven't graduated from high school, according Orlik's chart, which comes from a large-scale quarterly national survey of household assets and income conducted by Gan Li of the Southwestern University of Finance and Economics. Only 12% have a college education. Among existing investors surveyed, only 25.5% lack a high school diploma; 40.3% have finished college.
"The significance of the relatively low education level of new investors, I think, is that it suggests relatively inexperienced retail investors are driving the rally," says Orlik. "That underlines concerns that it's a rally divorced from the fundamentals of profit and growth, and so prone to a sudden reversal."
Since China's government tightly manages the flow of money in and out of the country, it's hard for anyone but the wealthy to get money out of China. That leaves households with three ways to make money on their savings: buy property, keep it in the bank (or in shadow finance), and buy stocks.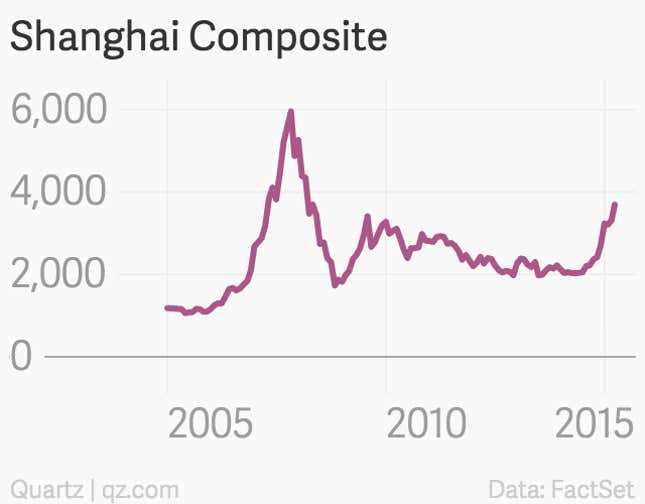 Until recently, home values were surging—which meant sinking money into a brand new apartment was probably your best bet. Plus, China's stock market is notorious for functioning like a casino. With rampant insider trading and so-called experts "stir-frying" stocks (i.e., the Chinese equivalent of "pump and dump" scams), the little guy often gets screwed. So devastating was the last major Chinese stock market crash—in early 2008—that many swore off stocks completely, funneling their funds into real estate instead.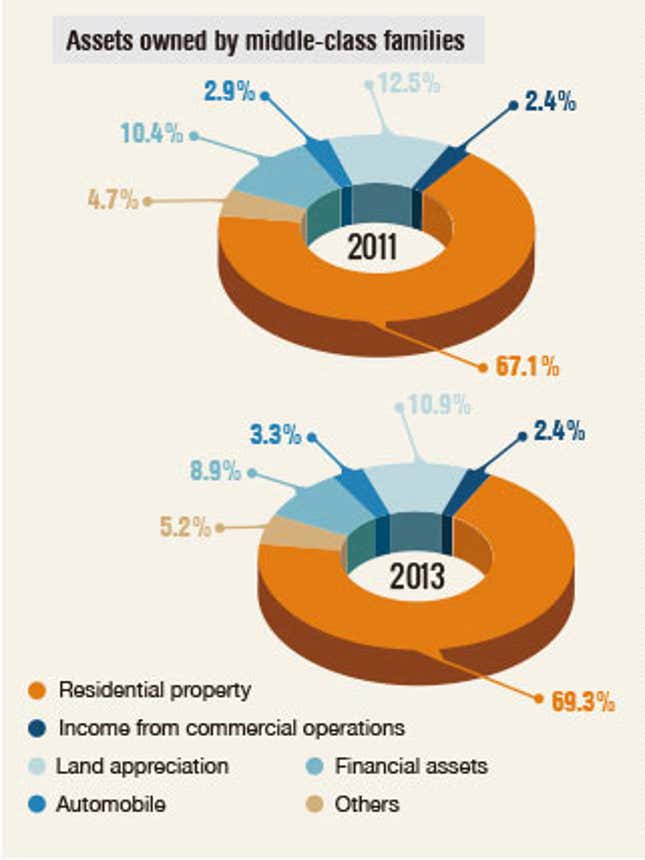 Now income growth is slowing. With the housing market, once a mammoth share of household wealth, in slow-motion free-fall, the state-run media has been encouraging stock investments. And people have to put their savings to work somehow.
What happens to China's least-educated, least-skilled, most-vulnerable families when the bubble pops is, evidently, a worry for another day.