Sotheby's, the centuries-old auction house that conducts sales in cities including London, Paris, New York, Hong Kong, Zurich, and Doha, will open a new sales venue today: a special page on eBay. Sotheby's says a sale of photographs (including the portrait below of Faye Dunaway by Terry O'Neill) at 10am will launch the company's efforts at live-streaming auctions from the New York showroom, allowing participants access to real-time video and bidding through eBay.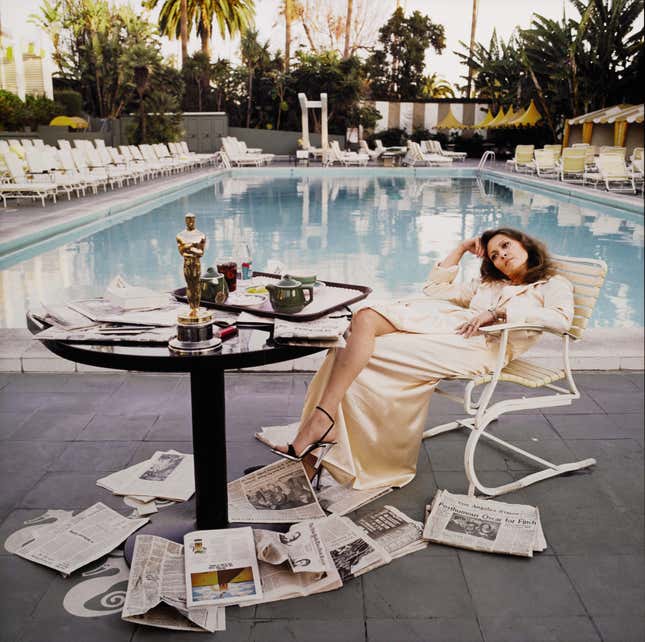 As Quartz has reported, Sotheby's and eBay have tried—and failed—at such partnerships before. But this time may be different. Sotheby's has new leadership in the form of CEO Tad Smith and chairman Domenico De Sole, after activist investors insisted on change in the wake of disappointing numbers at the auction house. The company announced Smith and De Sole's appointments the same week in March when it shared the timetable for its eBay partnership; both seem to be part of a larger effort to rebrand and rebuild Sotheby's.
Online sales is one of the important growth areas where Sotheby's needs to catch up to its primary competitor, Christie's. (At present, one can buy a Warhol, a Rolex, or even a cherry-red Birkin bag on Christie's site.) Sotheby's already has five more sales—including one of New York-themed artwork and memorabilia later today and another of vintage jewels by Cartier, Van Cleef & Arpels, and Bulgari later this month—on its page of upcoming eBay sales. Sotheby's reportedly aims to reach the middle market—as opposed to the super blue-chip buyers—via eBay. A vintage Mets' bullpen cart's starting bid is $10,000; an Ansel Adams thundercloud print starts at $3,500.
Sotheby's is certainly offering items to tempt new collectors, but if it really wants to rope in the impulse buyers—and isn't that the joy of eBay?—it's going to have to do something about that 24-hour advance registration requirement.