One issue has relentlessly plagued Twitter since it went public 17 months ago: It is nowhere near as big as people thought it could be.
On most measures,  it is tiny compared to Facebook, which for better or worse is the company it is most often compared to. And while Twitter says exposure to tweets embedded in news articles means it has a wider reach its monthly active user base implies (it was 288 million at last count), the company has had trouble convincing people with that argument.
But Twitter may have finally found the key to unlocking the user growth it needs to achieve scale commensurate with its huge valuation and its coverage in the media. If you have been paying attention to the internet over the past week, you have probably already heard of it. It's called Periscope.
Twitter bought the live broadcasting video app last month. It went live less than a week ago and has quickly overtaken rival Meerkat (the talk of South by Southwest this year) in terms of app downloads and search interest.
Jefferies & Co. tech analyst Brian Pitz describes Periscope as a "game changer." In a note today to clients, he called it the "last missing piece of the puzzle" for Twitter. Not only could it jumpstart user growth, but it also could put Twitter in a better position to capture a slice of the booming online video ad market, which Jefferies thinks will be a $17 billion industry by 2017 in the US alone.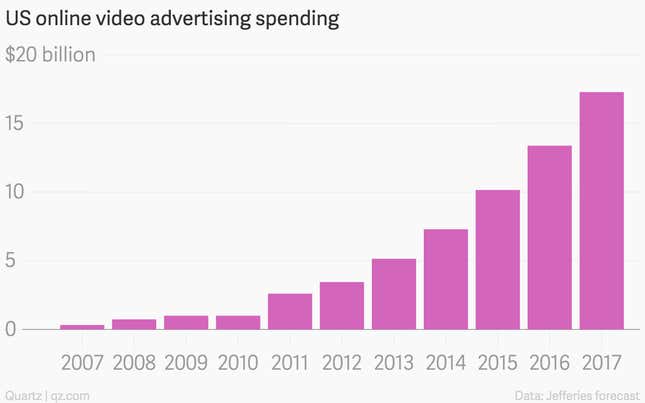 People are still figuring out Periscope. At the moment it is being used for predictably weird reasons, like to show people the content of their fridges. Today I used it to post a riveting discussion about finance with two of my colleagues here at Quartz.
It is not difficult to envision a scenario in which the app is used to cover live, breaking news—we got a taste of this when a restaurant exploded in New York last week. Action, in real time, from sporting events and concerts, encounters with celebrities, or anything else a smartphone user may come across, could all prove interesting.
And this kind of live, spontaneous video may be the thing that convinces lapsed users of Twitter, of which there are almost as many as active users of Twitter, to re-engage with the platform. At the moment, you need a Twitter login to use Periscope, but even if that changes and Periscope attracts a completely new set of users, this would be a good thing for the parent company.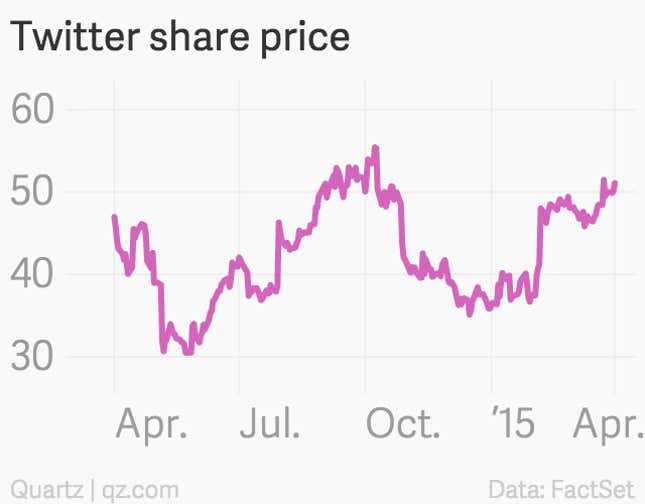 "Twitter is already established as a first stop source for news for its daily users, as news events and discussions unfold in real-time on Twitter," Pitz writes. "Live-streamed video would further entrench Twitter as a go-to news source."
Of course, Periscope doesn't have the live video broadcasting space to itself yet. Meerkat hasn't disappeared; in fact it just raised $14 million in fresh funding. Snapchat is growing like crazy and operating in a similar space. And who knows what Facebook and Google might do?
But for now at least, Periscope is getting investors excited again about Twitter. The stock is at its highest levels in about six months, a marked change from the negativity that seemed to shroud the company for much of last year.