Stanford University, already one of the most generous US colleges in terms of financial aid, is upping its game. The university announced it will offer free tuition [via CNN Money] for students whose parents earn less than $125,000 a year and have less than $300,000 in assets, excluding retirement. The university will also cover room and board for the students whose families make less than $65,000. The students are still expected to pay $5,000 from their own earnings.
That's a step up from its previous free tuition packages, which before this year applied to students with family incomes of less than $100,000 and $60,000, respectively. Here's what families who received some federal aid paid for a Stanford education in the 2012-2013 school year, after taking into account free financial aid (in other words grants, not loans) such as institutional, federal, and state grants: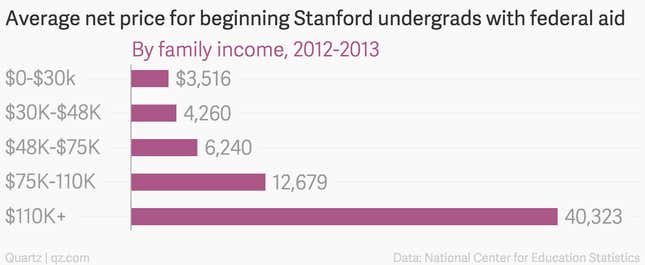 The average net price for families making upwards of $110,000 will likely decrease after this year, thanks to the new policy. The ceiling increase may partly be to account for changes in cost of living and inflation since Stanford implemented its $100,000 policy in 2008. It's also further recognition that while Pell Grants and other federal aid help low income families pay for college, there is a large population of upper middle income American families for whom college tuition causes major financial distress.
Other high-priced prestigious colleges with sizable endowments, including Princeton and Dartmouth, offer similar tuition breaks. But the vast majority of American students, who don't attend schools teeming with wealthy alumni and institutional connections, aren't getting those breaks.
Last year, 20 American universities raised nearly a third of all endowment funds raised by the country's universities, according to data the Council for Aid to Education provided to Quartz. Stanford's massive endowment, which reached $21.4 billion last year, made up the bulk of the university's income in 2014.
For some perspective, compare Stanford's 3,414 full-time undergraduates on need-based financial aid to the country's 19.2 million college students. Here's what the average US college student in 2011-2012 paid (PDF, pg. 12), after taking into account free federal, state, and institutional financial aid:

Based on this data, the average US college student pays substantially more than Stanford students at family income levels up to roughly $110,000. Above that level, Stanford's average student payout has skewed higher, likely because of its higher overall tuition costs and wealthier student body.