The numbers: Privateer Holdings, a Seattle-based marijuana conglomerate best known for its plans to bring Bob Marley-branded weed to market this year, has raised $75 million, bringing its total funding to $82 million. Research firm CB Insights says this is the largest-ever funding round for a pot startup.
The portfolio: In addition to Marley Natural—which in 2014 struck a 30-year licensing deal with the family of the late reggae legend and marijuana enthusiast—Privateer's portfolio includes Leafly, a Yelp-like marijuana reviews site that racked up 5.5 million visits last month on its website and app, and Tilray, a medical marijuana facility headquartered in British Columbia. Tilray, which currently has 3,500 patients, is awaiting approval from the Canadian government to expand its facility so it can produce more than 100 pounds of medical cannabis a week.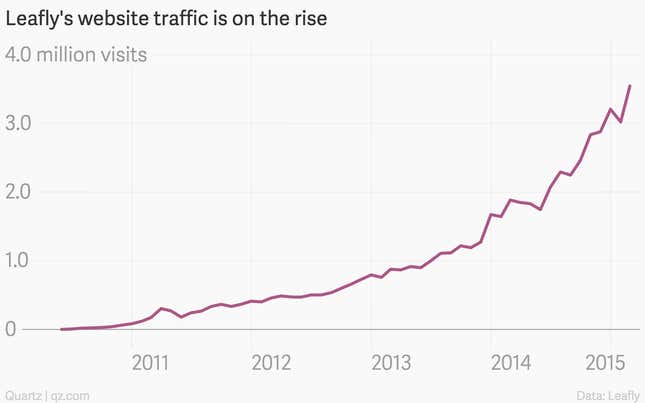 The investors: Privateer isn't disclosing all of its investors, which include wealthy individuals, companies representing family trusts and investments, and two institutional investors. But we know from its January funding announcement that one of the firms is Peter Thiel's Founders Fund. "I do think that we have a tendency to be more open to spaces that other people are afraid to invest in because they don't want to be embarrassed or have a reputational concern," Founders Fund partner Geoff Lewis told Quartz at the time.
Why this investment is noteworthy: Aside from the fact that it's a marijuana company—part a sector that is expected to reach $10 billion in sales by 2018—Privateer's funding round takes place amid a slowdown in overall venture capital activity. Along with other start-ups, the marijuana sector has suffered from a downturn following a banner year in 2014. Before the Privateer announcement, research firm Pitchbook logged only 12 venture capital and private equity cannabis investments totaling $1.2 million in 2015.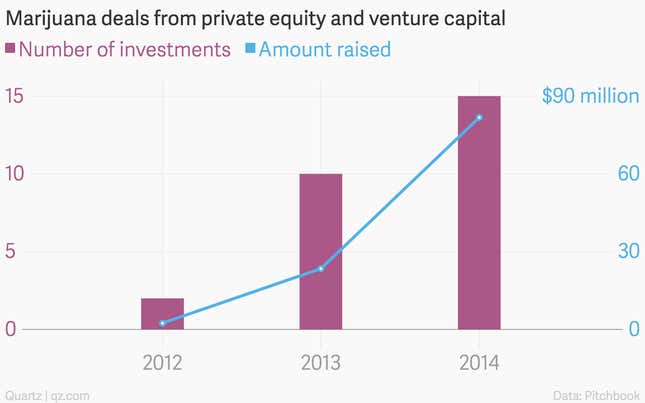 Plans for the money: Privateer has its sights on expansion. Across its brands, it currently employs 250 people, and it plans to grow that to 500 to 1,000 by the end of the year. In addition, Privateer plans to launch new brands, and applied for a license to grow marijuana in Uruguay in 2014. Kennedy says he wants to enter half a dozen additional countries this year.