The number of venture-capital backed deals is certainly slowing down, but that's just compared with last year's irrational exuberance. Historical averages suggest the pace remains relatively brisk.
In the first three months of 2015, the number of venture-backed companies that went public—and the amount of money those firms raised—dropped by more than 50% compared with the same period last year, according to Thomson Reuters and the National Venture Capital Association.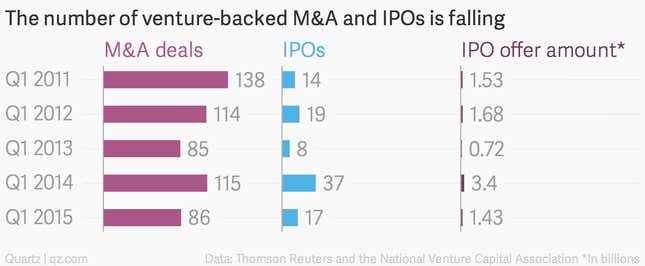 But IPO activity is still running at double the rate of the past decade. From 2001 to 2013, there were an average of nine venture-backed IPOs in the first quarter, compared with 17 in the first quarter of 2015. The 37 venture-backed IPOs in the first quarter of 2014 represented an outsized spike, rather than the beginning of a trend. 
So while Alibaba, GoPro, Lending Club, and other giant public offerings made last year huge for IPOs, historical data shows the slowdown in deal flow might just be a return to a more normal pace.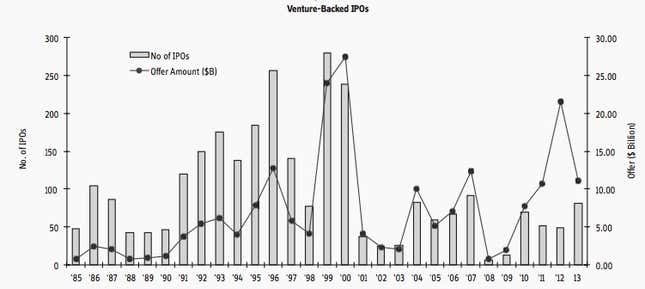 "With such a blistering pace for venture-backed exit activity in 2014, it was only a matter of time before we saw a drop in activity," says the VC association's president Bobby Franklin.
While Franklin pointed out that dozens of startups are waiting in the wings hoping for 2015 debuts, if hot startups like Uber, Spotify, and Pinterest continue to shun the public markets (paywall) in favor of raising readily-available private capital, it's hard to imagine we'll see a repeat of  2014's banner year.