By many measures, JPMorgan had a great year. How else can you describe a record $21.8 billion in profit? In his annual letter to shareholders, bank boss Jamie Dimon could have just printed that figure in big, bold letters, given a cursory shout-out to bank employees and called it a day.
But in the end, Dimon penned a 38-page rundown (pdf) of the bank's many successes, its competitors' many failures, and the forces that are conspiring to stop it from making even more money in the future.
Quartz appreciates how Dimon sprinkled charts throughout the letter on the key themes of JPMorgan's business. It's easy enough to get the gist of what the CEO wrote in this quick rundown of some of the key pictures:
JPMorgan's powers of value creation are unmatched:

Its capital cushion is big, and getting bigger: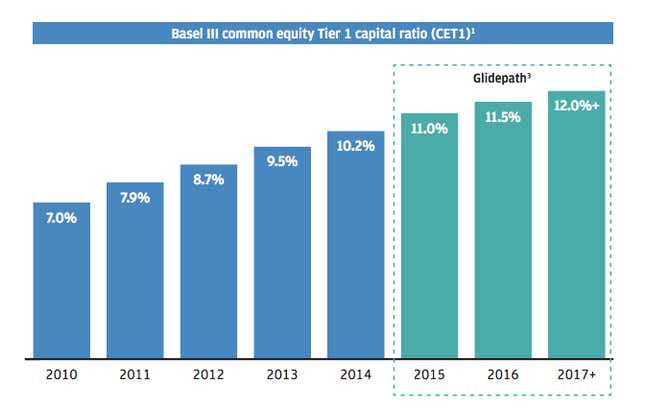 People love the bank…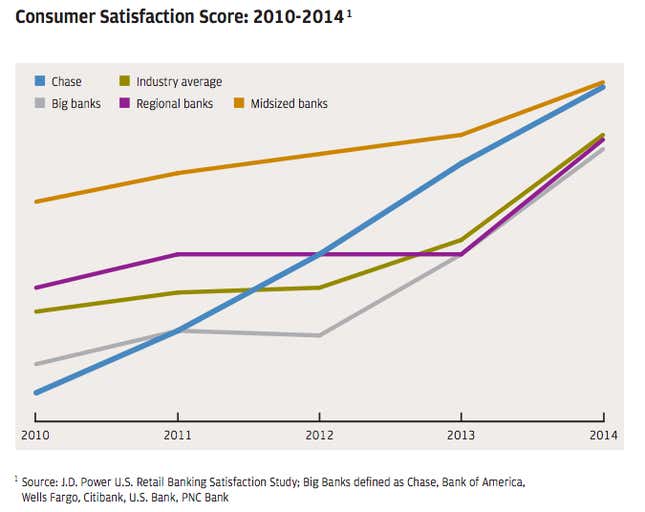 … especially really rich people: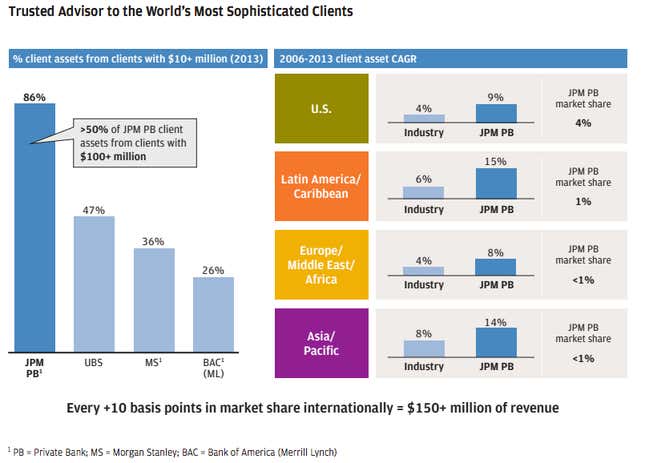 Just for good measure, here's another whizzy chart that Dimon didn't happen to include. In case he finds occasion to do a revision of his letter, this one's on us: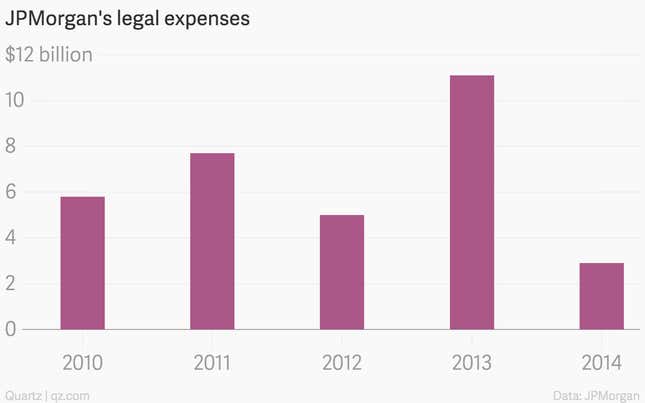 Although JPMorgan managed to cut the cost of its legal missteps last year, it still racked up $2.9 billion in 2014, which is a decent chunk of change.
Dimon laments that the uncertainty over future legal and regulatory costs "have hurt our company and the value of our stock and have led to a price/earnings ratio lower than some of our competitors." Deep in the footnotes of its latest annual report (pdf, p. 295), the bank estimates that it could face up to $5.8 billion in losses related to ongoing legal proceedings—on top of the $1.1 billion in expenses it booked at the end of last year. The bank then takes seven single-spaced pages to describe all of those cases in detail.
In his letter, Dimon admits that "we certainly have made our share of costly mistakes," but explains that the most costly mistakes were inherited when the bank took over Bear Stearns and Washington Mutual. The cost of legal settlements are also being inflated by multiple regulators imposing their own penalties for the same issues, which Dimon calls "an unprecedented approach that probably warrants a serious policy discussion."
Like it or not, this is "simply a reality for big banks," the CEO says, and as a result, JPMorgan has hired 8,000 people to bolster its compliance operations. New anti-money laundering systems, fewer foreign correspondent bank partnerships, and better risk models are among the other actions the bank has taken to cut its legal risks.
"The good news is that our legal costs are coming down and, we hope, will normalize by 2016," Dimon says. JPMorgan has been hit with more than $32 billion in litigation, regulation, and related costs over the past five years. Before that, it didn't bother to report such costs separately, since they were typically small. What's "normal" these days is anyone's guess.