Two monuments to Edward Snowden appeared in New York this week. The first was a giant 100-lb, four-foot high bust glued to a column in a Brooklyn park overnight. Conceived by two anonymous street artists who worked with an also unnamed West coast sculptor, the feat was documented by arts and culture blog, Animal New York.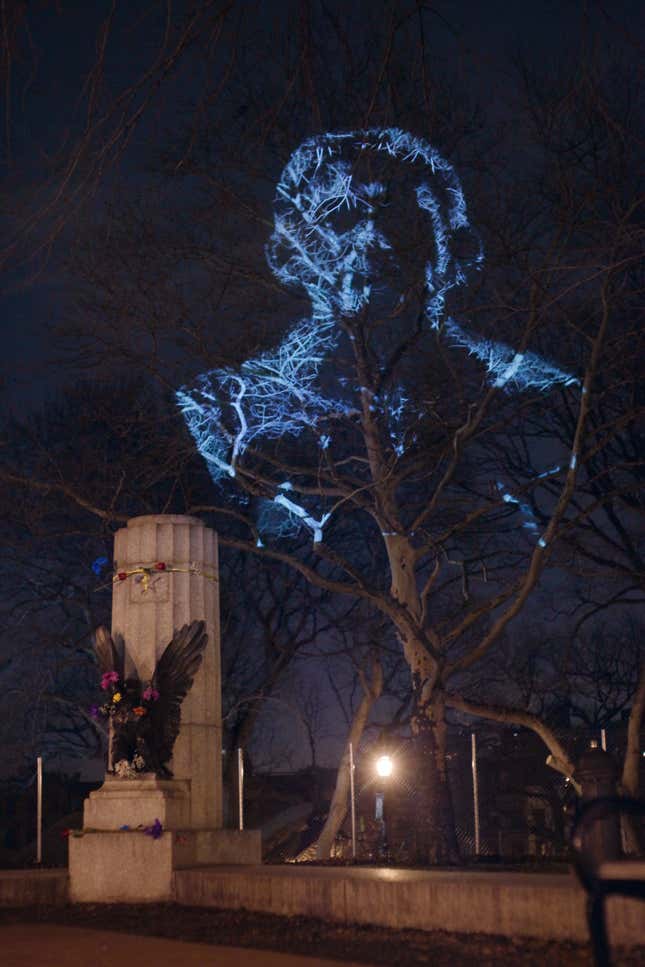 Almost as soon as the Parks Department removed the unsanctioned effigy later that day, another group of guerrilla artists who call themselves "The Illuminator," projected a ghost-like hologram of Snowden above the same column. The light show lasted for 20 minutes.
"For me, Snowden is an interesting subject because he stands as evidence that the people we are intended to honor as advised by the state are becoming divergent from the people we actually consider to be our heroes" says Grayson Earle an artist who worked on the Brooklyn projection. "This kind of break in a culture typically precipitates larger political shifts. People are feeling increasingly comfortable in flying their rebel flag, openly advocating for a man charged with treason," he tells Quartz.
These are just the latest in a string of artists who have paid homage to the former National Security Agency contractor who fled to Russia after leaking classified information to the media. Here are some highlights from the burgeoning Edward Snowden art movement.
In Dafen, China, home to the world's largest commune of painters and art copyists, portraits of Snowden painted in oil are sold at 10 times the price of a replica of Monet or Van Gogh.
Last year, sculptor Jim Dessicino, placed a nine-and-a-half-foot tall statue of Snowden in Union Square Park and the Meatpacking District in New York City for the "Art in Odd Places" festival. It is currently on display at a museum in Delaware.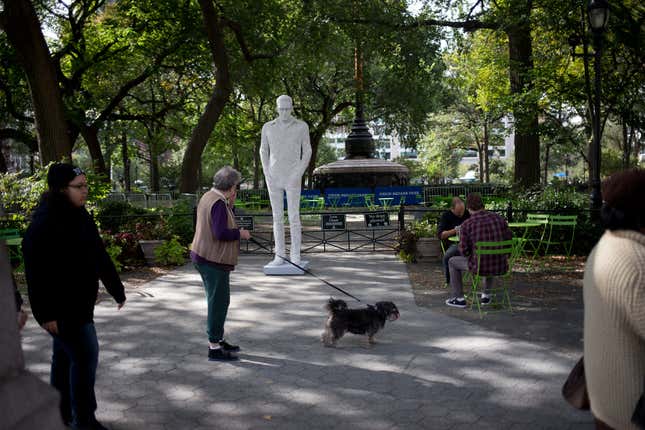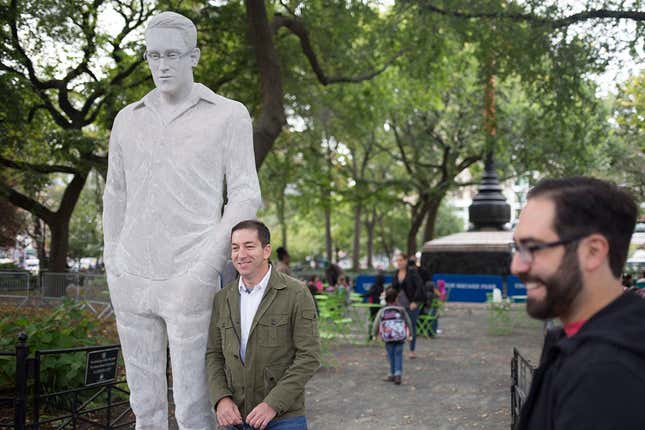 Another high-profile exile, artist Ai Weiwei, included a portrait of Snowden made from Lego bricks in an exhibition focused on human rights and freedom of expression at the abandoned prison in Alcatraz.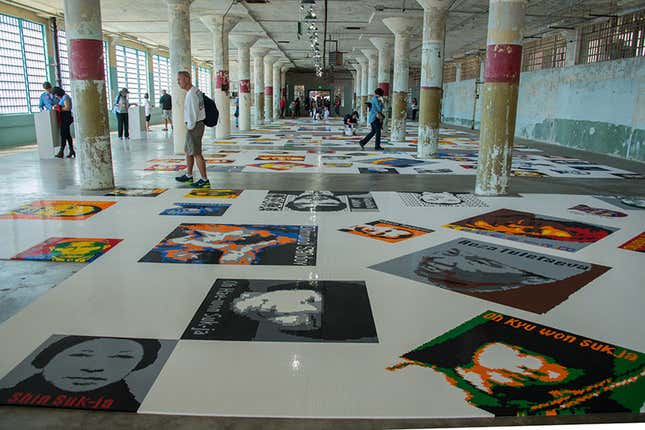 Street artists who identify with Snowden's brand of counter-establishment tactics have been particularly active with tags, murals and graffiti.
The British street artist Sarah Mayhew painted this mural in Manchester months after Snowden's story broke in the media. She recently reposted  the image on Instagram and wrote, "I spent a lot of time on this painting, talking to the public explaining who Edward Snowden is. [But in 2013], my press release was ignored by local and national papers. It was a sign of the times…things have rapidly changed since then [in terms of] the support for Snowden & whistleblowers in general."
LA artist Kalen Ockerman, aka Mear One, painted a holy trinity of whistleblowers with Snowden on the right.
In Berlin, where support for Snowden is particularly strong, Martin Keune remade Shepard Fairey's iconic Obama poster, swapping in Snowden's image and replacing the word "HOPE" with "ASYL" (German for "asylum"). The civic action group Campact used the artwork for a campaign to grant Snowden a safe haven in Germany.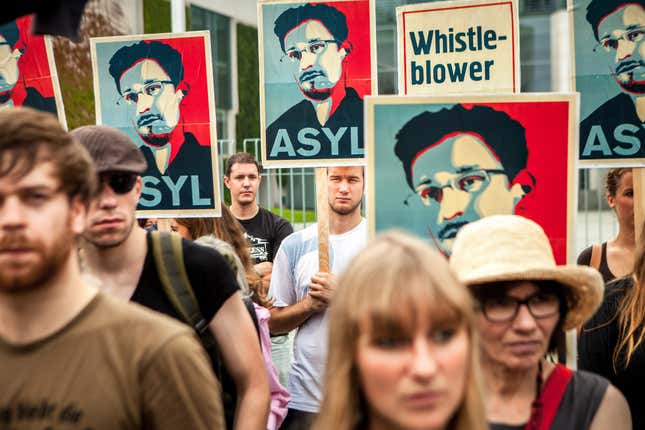 Jörg Janker even pasted over road signs in Berlin renaming them "Snowden Strasse" as an homage to the exiled anti-hero.
In the UK, graffiti art attributed to the elusive street artist Banksy appeared on a wall near the headquarters of the Government Communications Headquarters, also known as "Britain's eavesdropping agency."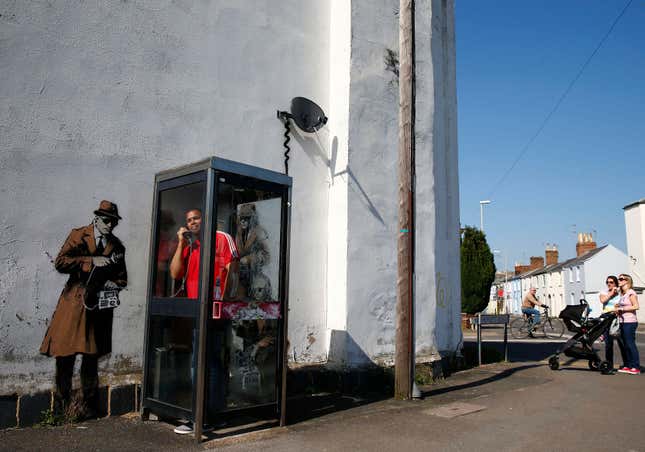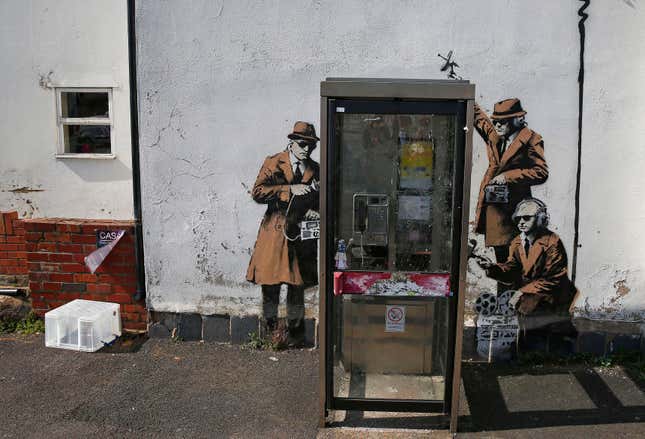 Street postings and fan art tributes continue to appear around the world, perhaps helping to sway the public's still polarized view of Snowden. According to a 2014 public opinion survey conducted by the Pew Research Center, most young Americans support Snowden with 57% of 18- to 29-year olds polled saying he served the public interest. 49% of respondents aged 50 and over believe his actions harmed public interest.