This post has been updated.
The world's most pirated TV show, Game of Thrones, returns to screens tonight, US time. Already, the first four episodes of the new season have been leaked online.
HBO is taking the unusual step of airing the fifth season simultaneously in many countries around the world.  It will air at 9pm in New York, 2am on Monday in London and 11am in Sydney, for example. The map below should give you a sense of why.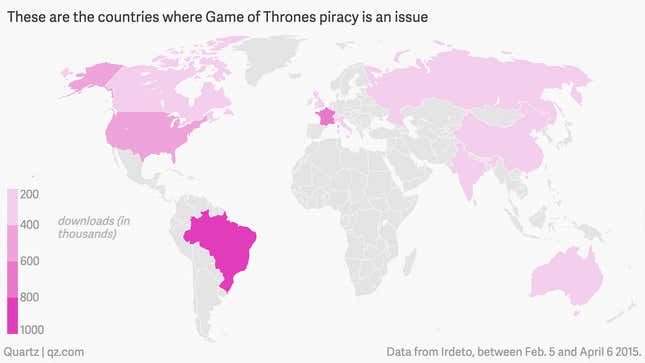 In short, piracy of the show is a global phenomenon. By airing new episodes at the same time in many parts of the world, HBO and its partner networks hoped to combat it (Update: evidently, it won't be enough to stop it). Historically, fans in places outside the US have found it difficult to wait for their local broadcast in more conventional hours.
Media protection company Irdeto recently tracked illegal downloads of content in 200 countries, providing some insight into the scale of the Game of Thrones' piracy problem. According to its study, episodes from the first four seasons of Game of Thrones were downloaded more than 7 million times over the past two months. (A "download" is a unique IP address identified by the company's systems which pirated a unique file on the BitTorrent peer-to-peer network, Irdeto says).
As the map shows, 10 countries saw downloads of Game of Thrones episodes  in excess of 200,000 during that period. Brazil led the pack with nearly 1 million downloads alone. At the other end of the scale, India registered just above 200,000, according to the analysis.
Its claim to the "Iron Throne" is secure
As you can see, Game of Thrones was subject to more piracy than some other shows with cult followings during the period.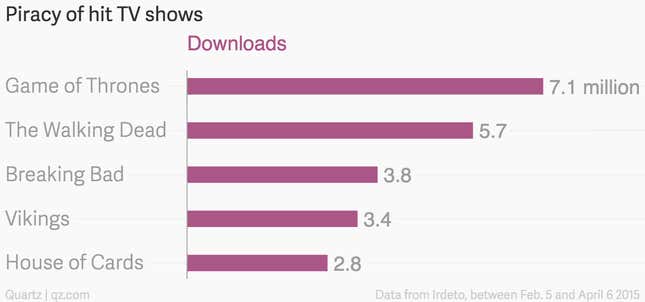 That might reflect anticipation of the new series, although Netflix released a new season of its flagship drama House of Cards during the period as well.
Winter is coming…to Brazil
Here is the data from the map expressed more clearly. Brazil is the world champion of Game of Thrones piracy, according to this analysis at least.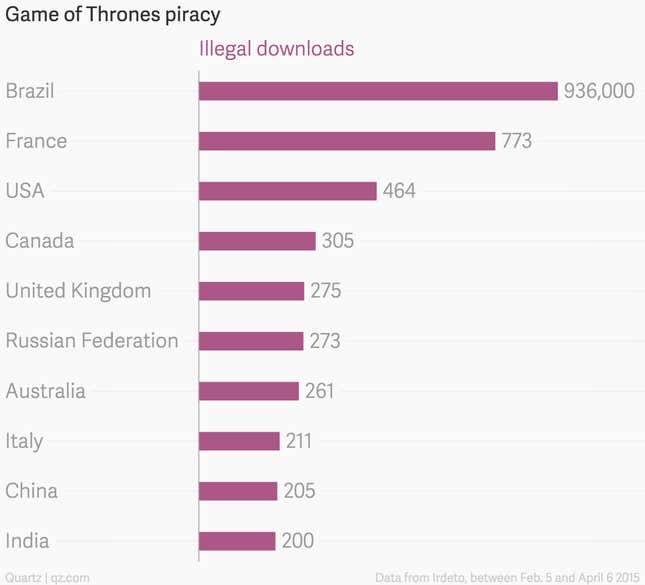 Brazil's dominance is at odds with other analysis that has shown Australia to be the biggest source of piracy for Game of Thrones. It's worth noting that Irdeto's analysis doesn't take into account the usage of VPNs and other IP masking services, which could distort things. And on a per capita basis, Australia punches above its weight, although it's behind France.
China, India rising; Russia in decline
This must be sobering for HBO and Hollywood more broadly. Piracy of the show is grew almost everywhere compared to the same period last year.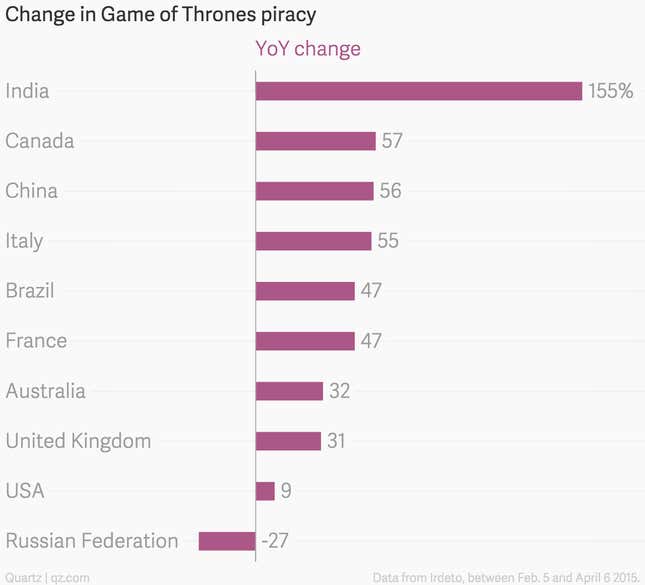 Particularly in the world's two most populous countries, India and China. It declined in Russia.
Finally, in a separate (but probably not entirely unrelated) move, HBO recently launched an internet only TV service in the US. Tonight will be the first big test for that.
Update 12:01 pm ET: Post updated to reflect the leak of the first four episodes of the fifth season.