The numbers: Eaze, an on-demand marijuana delivery service (and one of several nicknamed the "Uber for weed"), has raised $10 million in a series A round. The San Francisco startup, founded by early Yammer employee Keith McCarty, raised $1.5 million in seed funding in November. It was one of the first pot companies to get support from institutional investors, who in the past have been skittish about putting their money in marijuana.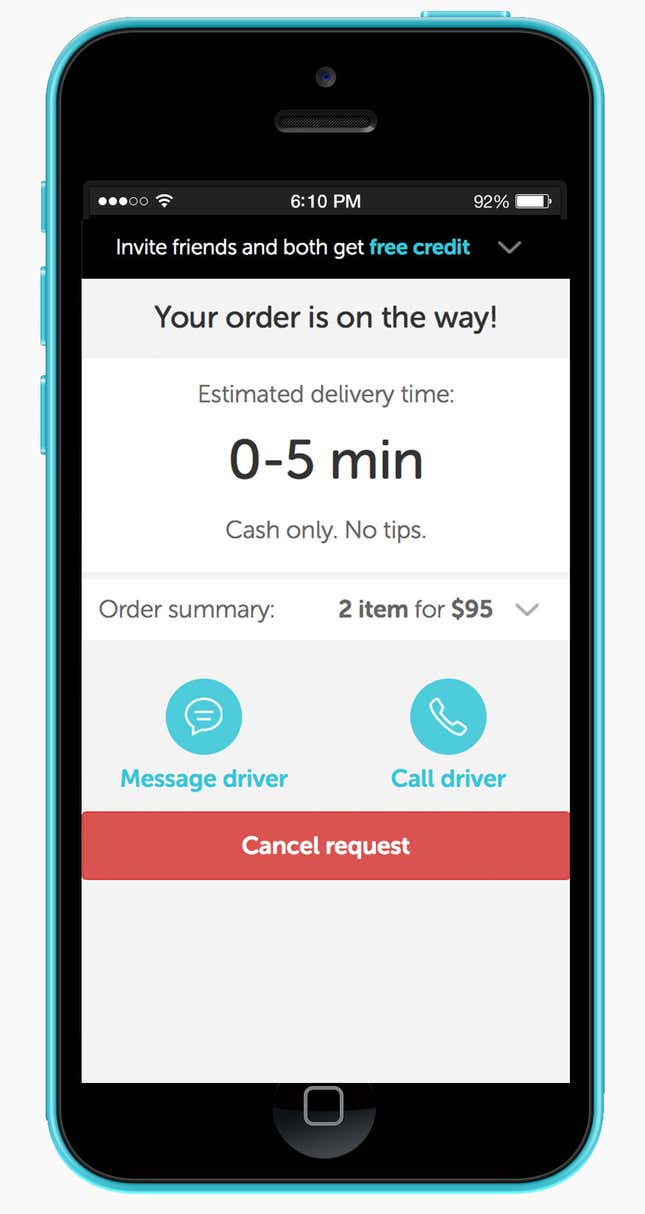 The investors: DCM Ventures, which invested in Eaze's seed funding, led this round, with participation from Snoop Dogg's Casa Verde Capital, Fresh VC, and 500 Startups. "At the time we invested in the seed, we had a thesis the medical marijuana market would continue to grow, and from a regulatory perspective, it would move toward deregulation," Kyle Lui, a principal at DCM, tells Quartz. "Things accelerated much faster than we had anticipated."
Why DCM isn't fazed by pot: Eaze provides the technology for dispensaries and doesn't grow or sell, says McCarty. That said, Lui notes that DCM's limited partnership agreements don't prohibit the company from investing in startups that break the law—as some of the most successful digital companies have sometimes done. "In a lot of jurisdictions, Uber was breaking the law, Airbnb was breaking the law," he says. "I think being forward-thinking, you have to see where the world is going rather than where you currently are."
The industry is heating up: Just last week, Privateer Holdings—the Seattle-based startup that plans to bring Bob Marley-branded weed to market later this year—raised a record $75 million round. Clearly, some investors are putting aside their hesitations to get in on this industry, which raked in $2.7 million in sales last year. Since its launch nine months ago, Eaze says it's made more than 30,000 deliveries.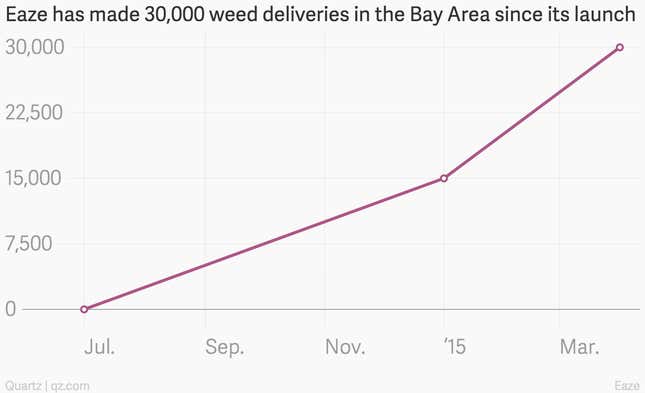 What's next: Eaze has an ambitious goal to hire 50 people in the next 50 days. McCarty says the company's also optimizing its algorithm so drivers can make more deliveries to patients within 15 minutes. Eaze plans to expand outside the Bay Area to other parts of California and eventually other states, though he didn't provide a timeline. "The plan is to be in every market as quickly as possible that allows for medical marijuana and even recreational use of marijuana," says McCarty, singling out Nevada, Arizona, Washington, Colorado, and Oregon.