Movie studios hoping to learn the secret to box office success in China, the world's largest market, might look to Furious 7, whose debut on Sunday broke single day records for any film ever released in the country.
The latest installment of the street-racing franchise featuring the late Paul Walker brought in $63.2 million, according to the film consultancy Entgroup, double what Transformers: Age of Extinction made on its first day in China last year. Furious 7 is likely to overtake Transformers to become the country's highest-grossing film.
Why is a US-focused movie chock full of American actors like Walker, Vin Diesel, and The Rock, as well as American cultural references doing so well in China?
On the one hand, big budget films with splashy special effects and spectacular action sequences are Chinese fan favorites. But a look at the highest grossing films (link in Chinese) in China shows that Hollywood action flicks aren't the only successes. A low-budget domestic comedy, Lost in Thailand, still ranks third place, ahead of Hollywood blockbusters that have come to China like Iron Man 3, X-Men: Days of Future Past, or Captain America: The Winter Soldier.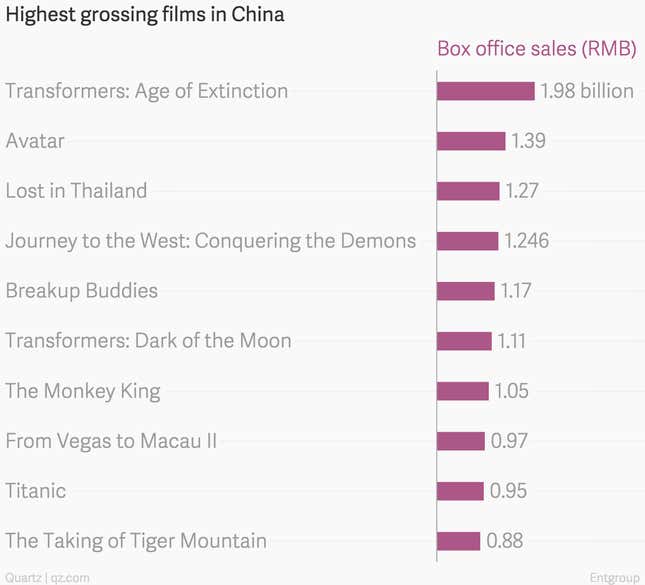 Lost in Thailand's popularity is important to note, because its advantage may be its sentimentality and simplicity. It follows a work-obsessed business executive trying to find his boss in Thailand who, amidst many predictable and preposterous mishaps, realizes that money is not all there is to life. Furious 7's appeal might also be sentimental—bloggers posted photos of the late actor Paul Walker (registration required) who died in a car crash himself and to whom the film is dedicated.
Another point for Furious 7 may be that it doesn't try so hard to appeal to Chinese viewers. The film was promoted in China but doesn't feature the kind of awkward Chinese product placements and favorable portrayal of the Chinese government that earned Transformers, a co-production between Chinese studios and Paramount, ridicule.
Careening luxury sports cars also help. The day before the film opened, big news in Beijing was a street-racing crash between a Lamborghini and a Ferrari. Some Chinese viewers are hoping for a homemade take on Furious 7. One Chinese fan wrote online (registration required), "In a domestic version we'll finally get to see some Chinese muscle cars."