Shares in the French drinks group Rémy Cointreau are rising in Paris today, after the company published a punchy sales update (pdf). Revenue growth in the company's full fiscal year (to March) rose by less than 1%, after controlling for currency moves, but investors were cheered by a much bigger jump in sales in the first three months of the year.
The company's flagship Rémy Martin cognac brand—which accounts for around 60% of group sales—paced the gains in the latest quarter. Sales of the cognac grew by nearly 40% versus the previous year, the strongest quarterly result in some time: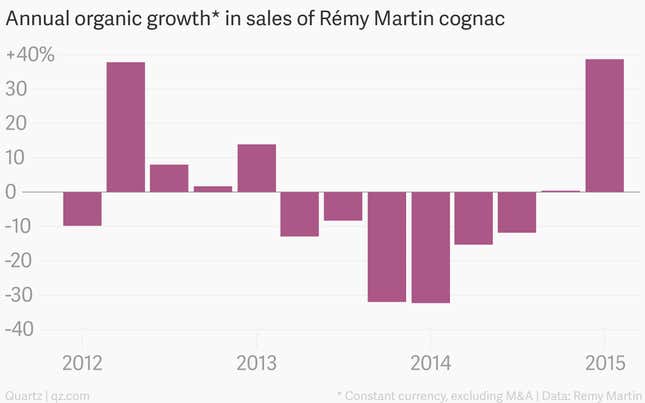 Particularly encouraging was a turnaround in cognac sales in China, where an anti-corruption crackdown has hit purveyors of luxury goods hard. Pricey bottles of brandy were once a popular gift for courting favor from government officials, but fear of scrutiny led to a steep fall in sales over the past two years. China's steadily slowing economy isn't helping, either.
The recent jump in sales, then, is partly due to last year's low base. Remy Cointreau and its competitors cut shipments to China after the gift-giving crackdown, selling down existing inventory. But with rival cognac maker Pernod Ricard also recently reporting a rise in Chinese sales, it seems that drinkers in the country aren't giving up on cognac just yet.
Still, luxury liquor groups are making moves to reduce their reliance on China—Hennessy's latest marketing stunt is to ship barrels of cognac from France to the US in a replica of the tall ship that the Marquis de Lafayette sailed in 1780 to join George Washington in the American Revolutionary War. The rebound in Chinese cognac sales is encouraging, but the US remains the world's largest market for the liquor, and demand there is less dependent on the whims of government officials.