China's GDP grew 7% in the first quarter of 2015, the slowest quarterly rise in nearly six years, the National Bureau of Statistics reported today, confirming fears that the economy is cooling rapidly. The figure met analysts expectations, but underlines the fact that China's goal of 7% growth for the full year is going to be tough to meet.
China's economy down is being weighed down by several factors, including a cooling property market, an unexpected drop in local government spending, and a stronger yuan that might be dampening demand for Chinese products abroad. Many analysts and economist believe the impact is just starting to be felt, meaning that the economy may worsen significantly through the year unless Beijing rolls out additional economic stimulus measures. The last time China's quarterly economic growth was below this level was the second quarter of 2009, when growth was 6.4%.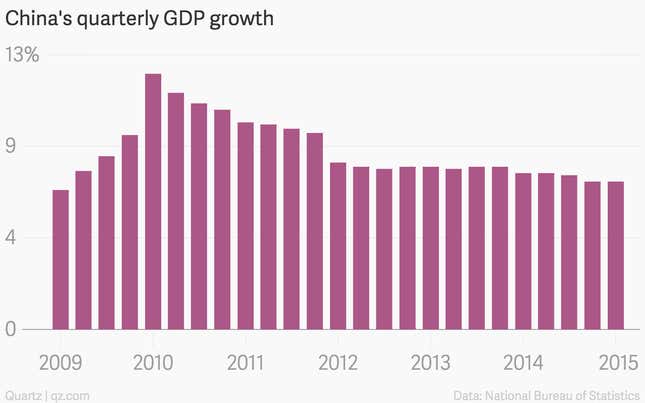 Yesterday, premier Li Keqiang warned that China must prepare for further economic challenges ahead. "We must keep a sober mind and realize that the downward pressure is increasing," he told a state-run broadcaster. Li called for more international cooperation and overseas investment to spur growth.