The latest nifty, nerdy online delight is Inside Abbey Road, a virtual tour of the famous London studio that allows users to "walk" through the three recording rooms, examine some of the gear, and learn more about the artists who recorded there.
Part of Google's DevArt partnership with the Barbican, a London arts center, Inside Abbey Road is full of fun features, including a time-lapse video of a full symphony setup, a sound test by stereo inventor (and Abbey Road engineer) Alan Blumlein, and a "mixing desk" to try your hand at sound levels.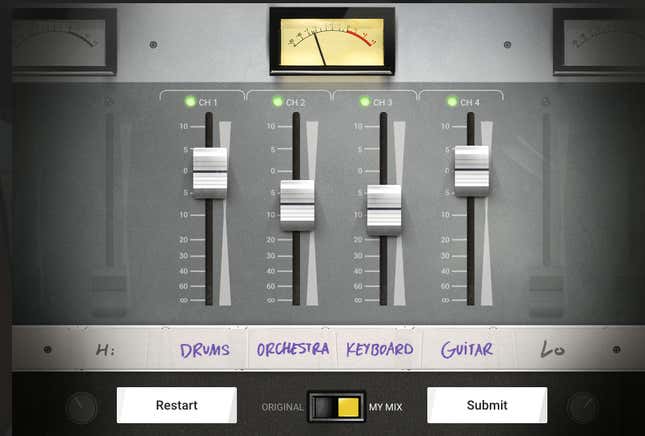 But for all its whizzy appeal, the Inside Abbey Road experience is a bit frustrating as well—particularly when it comes to the main point of the place: sound.
While the tour of Studio Three includes a detailed introduction to all of the studio's famous and storied microphones, for example, it doesn't provide clips of singing through each of them to give a sense of the different sounds they produce.
A section on filming soundtracks includes this tantalizing piece of information:
During Harry Potter, several scenes were set within the bowels of the earth. So, to evoke this subterranean world, galvanised watering cans bought from a local DIY shop were used. The sound from the orchestra was piped through the watering cans and then recorded.
But then, again, there is no sound clip so you can hear this for yourself.
And while there's a smattering of video of relatively modern musicians recording in situ, recordings from earlier artists seem to be almost entirely lacking (perhaps thanks to rights issues). While it is a fun tour, you may find yourself wanting to leave Inside Abbey Road to look up the music that was made there instead.