Consumers have been going strong for a while. Now it looks like companies are joining the party.
Everyone's favorite gauge of business spending is showing fresh signs of life today. The key number in the US Commerce Department's durable goods report is a little something known as non-defense capital goods, excluding aircraft, which strips out volatile airplane orders from the reading on capital equipment and includes the stuff that makes America run: cars, washing machines, toys. The latest reading for November shows this metric climbed 2.7% from the prior month. And what's more, the October number was sharply revised higher to 3.2%, up from the already respectable 1.7% that was first reported. Here's a look: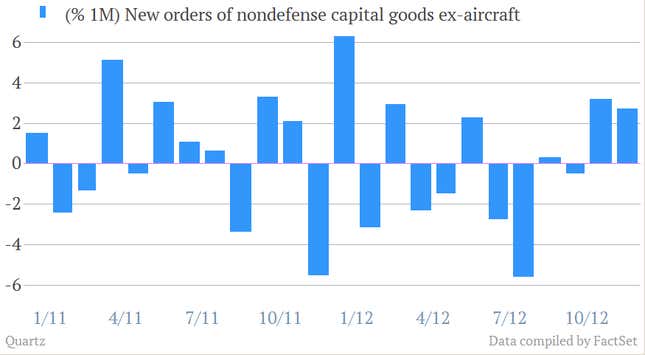 Admittedly, it's choppy data. But there are increasing indications that corporations ramping up spending.
And we know consumers on solid footing, but we got another update on their health this morning in the form of a fresh report on consumer income and spending. It showed the "real", i.e., inflation-adjusted personal spending rose 0.6% from the previous month. Better than expected. Here's a look.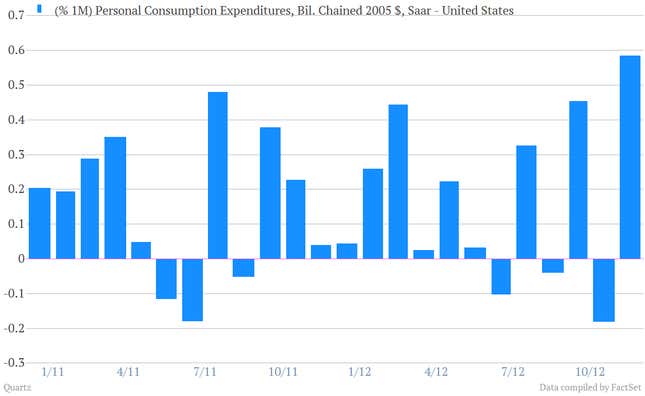 Let's just say it. This is starting to look like a broad-based virtuous cycle in the US economy—something that we haven't really seen in a sustainable way since 2008. Oh, and the Fed is doing a ton of lifting too, pushing down on rates and shoveling money into the economy.
Except for one thing.
The one thing, that looks like it could derail this momentum are the politicians who Americans desperately want to stop prancing before the cameras and come to an agreement already. It's as though they're actively fighting everything that is working for the US economy. That is just madness.