"Thanks for being flexible," Ringo Starr says when we meet recently to discuss his new album Postcards From Paradise, his upcoming All-Starr Band tour and book, and his induction into the Rock and Roll Hall of Fame. It's disarming, to say the least, to have a Beatle apologize to you, but it underscores just how at ease Starr is these days. Of course his past is never that far away.
I first saw Starr up close in a casino ballroom in the late-90s. He was sound-checking for that night's show and I was seated in the first few rows with members of his entourage and a few other lucky gawkers. I watched him closely, as he joked with the crew and then finally sat down at his drums, barely 15 feet from me. As soon as he started to play it was instantly "Ringo." I'd seen Starr at Radio City Music Hall in 1989 with his first All-Starr Band–which included Levon Helm and Rick Danko from The Band, Billy Preston, Dr. John and others–and a handful of times since, and it was always exciting. But this was different. In that moment, in an almost empty, unremarkable ballroom of a casino, I closed my eyes and realized that, unlike any other drummer ever, probably each of us could identify Starr's signature style almost instantly. That remarkable insight has never left me.
Our paths crossed a few times after that, and every time Starr exceeded any expectation I had with charm and grace. He was kind to my young son when I took him along to meet Starr at an album launch party, and he sang my daughter "Happy Birthday" backstage at a show just before he walked on stage to perform to 10,000 fans, much to the amazement of everyone there.
Thrillingly, I saw him reunite on stage with Paul McCartney in 2009, at a concert organized by filmmaker David Lynch to raise awareness about the benefits of Transcendental Mediation, which The Beatles learned in 1968 from the Maharishi. And we did a Q&A about his deluxe book of Beatles-era photographs not long ago.
Then, last year, when Starr was in New York City promoting his then-current tour and an exhibit of his digital paintings which he was selling for his Lotus Foundation charity, I was able to watch for almost two hours as he showed off his works to a small group of friends and press, before I was ushered in to a private room for a one-on-one. The TV folks who had come before me had asked about practically nothing but The Beatles and, while gracious, Starr seemed to quickly tire of it. As we said hello one of his handlers pointed out that we'd met before and had some mutual friends. Starr seemed to relax almost immediately.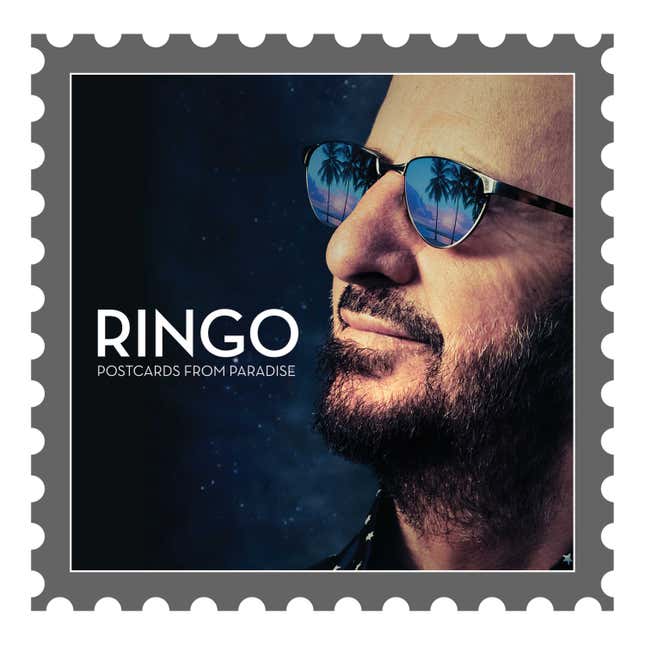 We chatted about Postcards, which was at the time still in the works, and some of the musicians who played on it that we had both worked with. Then he became really animated, talking about his drumming, and how he utilizes both acoustic and electronic drums in writing and recording.
"I play on my records before the song is there," Starr confessed about the way he works nowadays in the studio, becoming especially engaged talking about his beloved drums. "I am the drummer. It's an organic instrument to me, you know? I call my drums 'the organic drums', and the other kits are 'the Rolands.' It's like Jekyll and Hyde. I play absolutely differently in both situations. I can't play those Rolands like I play my Ludwigs. The electronic drums are mad. They're crazy!"
Wait. Ludwigs? Those drums. The drums we've all seen a million times, from the black and white clips of the Ed Sullivan Show to the grainy but orgiastic performances by The Beatles at Shea Stadium. I can't help myself.
"You know, I just love the drums on 'Rain'" I blurt out. "I think that was your finest hour."
"'Rain'?" Starr says, sizing me up a bit as I'm sure he has a million times with overzealous fans. "Well thank you, brother."
"It's my favorite," I say, and immediately wish I'd left well enough alone. But Starr brightens.
"Well, I always talk about 'Rain' because I've never played like that before, and I've never played like that since," he says. "It was busy for me. But it was just how it happened. But that's being in the studio, being in a band. Things can happen."
A band? There it is. We're talking about The Beatles. The accepted rule is not to bring up the Fab Four with Ringo, but once the subject is broached he's clearly as much a fan as any of us.
"For me it's Revolver," Starr says, namechecking The Beatles' 1966 masterpiece, when talk turns to the recent surge in vinyl sales and the glorious Beatles In Mono box set from last year and it's companion stereo set. "I mean, that's where we took off creatively. I think Revolver's where the change happens. But I'll actually put on Abbey Road, if I had to choose one to put on on vinyl. Abbey Road on vinyl is so great. I've always loved side two of the vinyl, because it's all short pieces, and I had that maple kit, so there's tom-toms all over it. It's the first time I ever played with real skins. That's what I'd listen to."
Along with the new album, and another All-Starr tour this fall, Starr's second book for the high-end U.K. publisher Genesis Publications, Photograph, including intimate shots–many of The Beatles–by the lifelong amateur photographer, along with memories about each from Starr, will be released in a commercial format in September.
"The book is all for charity, so that's a really good reason to buy it anyway," Starr jokes when we catch up again in early April. "But there are photos in there that you've never seen and that I hadn't seen for years and years. I'd forgot I had them. So I think people will be surprised at what I've found. It's an incredible sort of coffee table book to just have around, pick up, flip through, and see these images."
He's also being inducted into the Rock and Roll Hall of Fame on Apr. 18, following the inductions of The Beatles as a group, McCartney, John Lennon and George Harrison as solo artists, producer George Martin and even the band's manager Brian Epstein.
Starr tells me that McCartney had been out with some fellow Hall of Famers, who had pointed out the fact that Ringo was not included in that group. McCartney made a plan to immediately rectify the oversight, but not before calling to make sure his old bandmate would accept.
"It's an honor!" Starr says of his reaction to the call from McCartney, and jokes for a few seconds about the idea that he might refuse. Finally, he laughs and punctuates the seeming absurdity. "Who says no?"
And what will Starr say when he's honored for his unique contribution, rightly, as a drummer to the history of rock and roll?
When I ask Starr's office for a preview of his prepared remarks I'm told that's "not the way Ringo usually rolls." The world's most famous drummer will be tweaking things until the moment he walks on stage, and even then will probably change it up again once he's up there.
But one thing is for sure, the Fabs are never very far from his thoughts. He clearly misses Lennon and Harrison deeply, speaking just a bit more quietly when telling stories about them. Similarly, regardless of whatever momentary falling outs there have been with McCartney over the years, his love for the man who added the bass to Starr's drums is obvious.
"They were my brothers," he says matter-of-factly, if just a tad forcefully, adding a real poignancy to those four words. "We're the only ones who lived that life."