It's practically a given at this point that when a big retailer puts a new designer collaboration up for sale, the overwhelming customer demand will crash its website.
H&M experienced outages with the launches of both its Alexander Wang and Isabel Marant collections. Target suffered the same with its Missoni collaboration, and earlier this week, when its collaboration with peppy, print-heavy resort line Lilly Pulitzer went live, the retailer's website and apps abruptly went down once again.
So what gives? These multi-billion dollar companies with years of online experience know they're going to be inundated with traffic. Why aren't they ready to handle it? According to Aaron Rudger, director of product marketing at digital-interaction testing and analytics firm Keynote, which monitored Target's 2011 Missoni sale and recent Lilly Pulitzer launch, they certainly try their best. But the constantly evolving nature of technology and the challenge of accurately anticipating the influx of traffic make it hard to make such sales bulletproof.
Target, for instance, likely learned some valuable lessons from the Missoni-induced crash, but this time it had a new complication to contend with: mobile users. The demands that mobile traffic places on a website are significantly different than those of desktop traffic, Rudger says, and that can cause serious problems. A company such as Target usually enlists a cloud-based service to offload some of the work its servers have to handle during a traffic surge. But some of these services still don't handle mobile well, and when smartphone requests get routed back to the retailer's primary servers, they can result in an unanticipated influx that can bring a site down.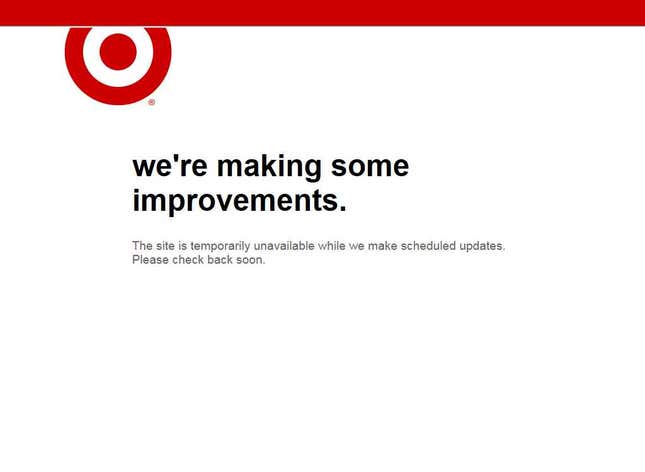 To avoid problems, the retailer needs to accurately estimate not only how many users it will get, but how many will be using smartphones and tablets. (Soon they may also have to contend with wearables, as well.)
A spokesperson for Target told Quartz, "Due to extreme traffic at launch, Target.com experienced slowness, resulting in an inconsistent guest experience, and for that we apologize."
Target seems to have underestimated demand for the collection, because it's typical for retailers to create forecasts of an expected traffic surge and do load testing to make sure the site can support it. "That works really well when your estimates are really good," says Rudger. "In this case maybe the demand exceeded what they anticipated."
Too much demand may not sound like a bad problem to have, but the risks are significant. Customers on the site who aren't even there to buy the collaboration can easily get frustrated with outages and turn to competitors. Keynote surmises the total sales lost in the roughly three hours Target's site was down during their testing "would sum to something around $780,000." The figure is based on Target's estimated 2014 sales of $2.5 billion, according to website Internet Retailer.
There's also a risk of angry backlash from shoppers who missed out.
So how can a retailer avoid costly crashes? Rudger, whose company works with brands including Chanel, says the single most important thing a company can do is make sure the business side communicates with the technology team. The tech staff needs to know where the ads are running that are bringing in potential customers, who the target demographic is, and what all that suggests about the digital channels customers will be arriving from.
Rudger will soon get to prove whether communication is enough. On April 20, Kohl's—which happens to be a Keynote client—announced a collaboration with the label Thakoon.