Amazon's cloud computing business, Amazon Web Services, has revolutionized the way software is created and how technology startups are formed. Now, some nine years after its launch, AWS has grown large enough that Amazon will start to report its revenue and profitability as a separate business segment. This could happen as late as Amazon's first-quarter earnings report—scheduled to be released Thursday, April 23, after the market closes—or in an earlier filing.
Roughly how big is AWS? Amazon has, so far, reported its revenue as part of its "North America—Other" category. This segment generated $5.4 billion in revenue last year, up about 45% from 2013.
In a recent research report, Sanford Bernstein analyst Carlos Kirjner estimated that AWS generated $4.5 billion in 2014 sales, which he projects will grow to $7.3 billion this year. Cowen and Company, another Wall Street firm, estimates 2015 AWS revenue of $5.9 billion. For 2016, JPMorgan analyst Doug Anmuth pegs AWS revenue of $8.9 billion.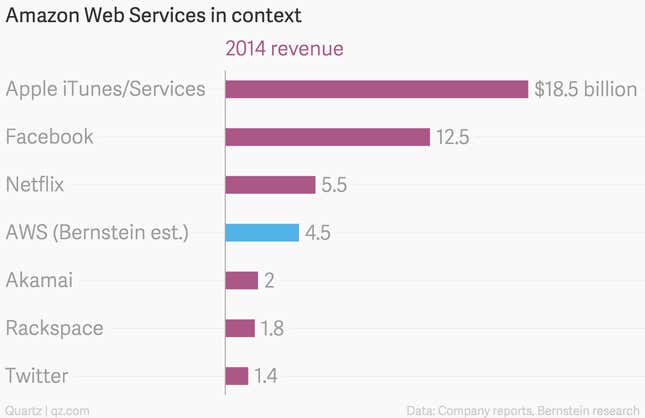 Either way, AWS is big enough to make Amazon the top "public cloud" platform, leading second place's Rackspace—and Microsoft, Google, and others—by a wide margin, according to a recent report from RBC Capital Markets. Amazon said in January that AWS usage grew around 90% year-over-year in the fourth quarter of 2014. However, a pricing war with Google and Microsoft had previously slowed revenue growth.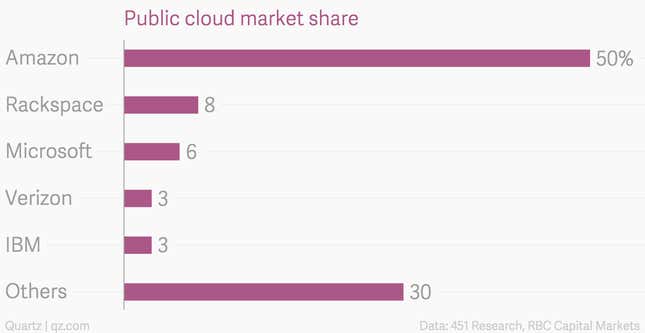 One interesting wrinkle is around AWS's profitability. It might actually be better for Amazon's stock—in the short term, at least—if AWS isn't very profitable. That would mean Amazon's core North America e-commerce business—which has been bundled with AWS so far in Amazon's financial reports—is more profitable than anticipated.
Put simply: "We think that the more money that AWS is losing, the better it is for the stock," Macquarie analyst Ben Schachter wrote in an earnings preview today.
Update (4/23): Amazon revealed that AWS is a $5 billion business, growing roughly 50% a year.