Amazon has just revealed the size of its near-decade-old cloud computing business for the first time: Amazon Web Services generated $5.2 billion over the past four quarters, and almost $700 million in operating income.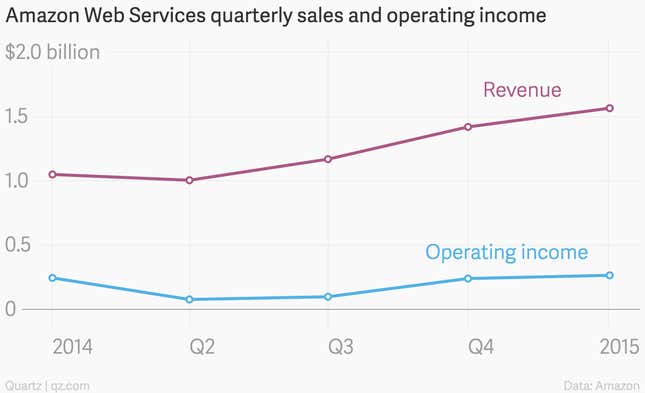 During the first quarter of 2015, AWS sales reached $1.6 billion, up 49% year-over-year, and roughly 7% of Amazon's overall sales. (AWS growth is accelerating, too, after pricing issues earlier in the year.) Total AWS revenue for 2014 reached $4.6 billion, roughly as expected.
Typically secretive Amazon had previously reported AWS revenue as part of its "North America—Other" category. This segment generated $5.4 billion in revenue last year, up about 45% from 2013.
AWS is also remarkably profitable, at least by Amazon's standards. Its $265 million in operating income last quarter looks good next to $517 million for Amazon's entire North America e-commerce business, which has almost ten times the revenue, and a $76 million operating loss for its international retail business.