In some Eastern European countries, Gazprom, the huge Russian gas company part-owned by the state, is pretty much the only supplier of gas. Today the European Commission announced that it would clamp down on the company's "unfair" monopoly, escalating the standoff between European authorities and Russia.
"All companies that operate in the European market—no matter if they are European or not—have to play by our EU rules," wrote Margrethe Vestager, the EU commissioner in charge of competition policy, in a statement released on April 22.
Reports of the pending charges, which are the culmination of a four-year investigation, prompted some analysts and diplomats to warn of possible Russian retaliation (paywall). Vestager says the charges are based purely on law enforcement, not diplomacy, and that the commission treats Gazprom the same as any other company within the jurisdiction.
Gazprom is the latest big target of a body that's taking aim at companies on a global scale. Last week, the Commission sent a list of objections to Google alleging that the company had abused its dominant position online by privileging its own comparison shopping service.
The Commission's beef with Gazprom, meanwhile, is threefold. The first is Gazprom's "destination clauses," which state that gas must be used in the country that bought it, and can't be sold onward. It also accuses the company of charging wholesale prices that are too high in some countries, and forcing some customers to buy other services—like use of its trucks and pipelines—as a condition of buying the gas.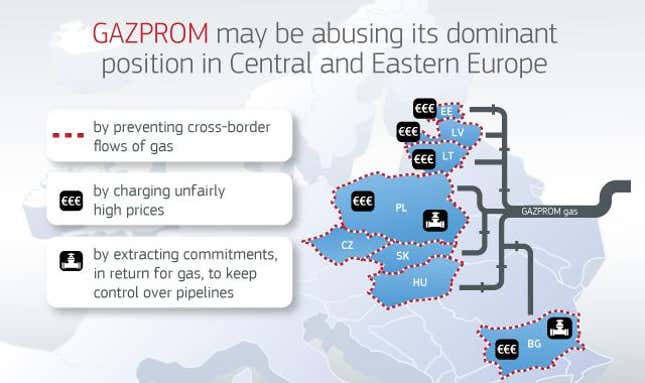 Gazprom has responded with a statement saying that it "considers the claims brought by the European Commission to be unsubstantiated," and that it "strictly adheres to all the rules of international law and legislation" in the countries where it operates.
Gazprom is the dominant natural gas supplier in all Central and Eastern European countries, the EU notes. It has a market share above 50% in most, and up to 100% in some. According to the company's own numbers, it provides three-fifths of the region's gas.
The commission could force Gazprom to allow more competition in the markets that it has enjoyed unfettered access to, as well as levy a fine of up to 10 percent of the company's global turnover—which could in theory (paywall) run to more than €10 billion ($10.7 billion).
The bloc's jurisdiction only extends to its own member states, so Ukraine is excluded. But Bulgaria, Estonia, Hungary, Latvia, Lithuania, Poland, Slovakia and the Czech Republic are all under the Commission's protection.