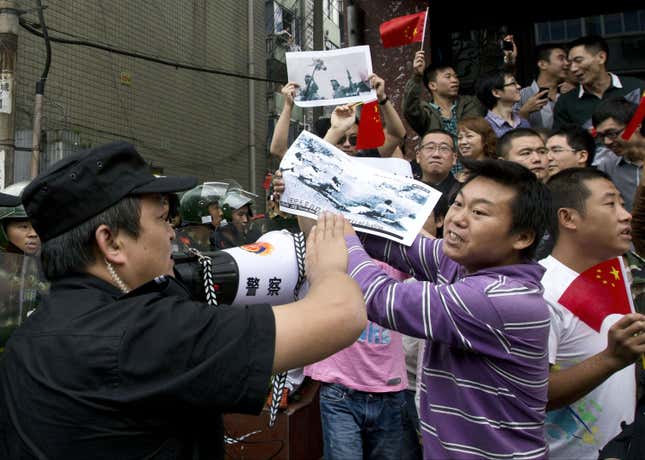 Japanese cars have been damaged in China, and Japanese businesses shuttered. A car carrying Gary Locke, US Ambassador to Beijing, was surrounded and attacked by demonstrators. Beijing protesters shouted (paywall), "Flatten Tokyo, destroy Japan!" Xi Jinping, China's next national leader, today called Japan's behavior a "farce."
Yet the scripted remarks of Beijing police monitoring anti-Japanese demonstrations and careful police control of the demonstrations themselves suggest that, while neither country will back down easily and both sides are highly agitated, we do not appear to be watching a prelude to war. The Chinese want their people to vent. But only just.
The Chinese anger is over Japan's decision to buy a group of East China Sea islands claimed by both countries. Japan calls them the Senkaku chain, and China knows them as the Diaoyus. Earlier this month, Japanese Prime Minister Yoshihiko Noda announced that the government would buy the islands from their private owner.
Noda explained that his intentions were to head off just such a diplomatic crisis by out-maneuvering Tokyo's governor, Shintaro Ishihara, a nationalist who had himself planned to buy and develop the islands. But the inflamed Chinese response—calling Noda a thief—was perhaps predictable given the imminent transition of national leadership in Beijing. China has strong economic leverage, as it demonstrated in 2010 when it severed Japan's supplies of rare earth elements, necessary in the manufacture of flat-screen TVs, wind turbines and guided missiles, in which China has the global near-monopoly. It also holds some $230 billion in Japanese bonds, and some Chinese voices have called for new economic sanctions including dumping the bonds.
There are arguments for why China might be bluffing. One is that it could be a ploy to make the case that current Chinese President Hu Jintao should stay on, as political insiders have reportedly told the New York Times. But in the past, China has honored leadership transitions, even if the old leader continues to exert influence from behind the curtain. Another argument is that China will shrink from using Japan-China trade as economic leverage, because Japanese divestment would inevitably lead to a loss of jobs in China. (Canon for example employs over 22,000 staff in China.) This too is questionable: witness the rare-earths sanctions.
However, the threat by China to dump Japanese bond holdings is not so powerful. At the end of 2011, China owned less than 2% of Japan's outstanding bonds. Japan was the world's top creditor in 2011, for the 21st year in a row, and has the largest net foreign assets in the world. (China is the second largest creditor.)
At any rate, China's cautious management of the protests makes a serious escalation look unlikely. "I do not think that Beijing will want to take this course of action at all," said Nicholas Consonery, an analyst with the Eurasia Group. "Such a move would run counter to what has been several years of positive momentum between China and Japan on bilateral financial and investment issues." Look for a face-saving resolution such as a formula to share the islands that can be sold in both nations as a victory.