Google has released its first-ever fashion trend report (pdf), which analyzed six billion search queries related to fashion between January 2012 and February 2015 to come up with predictions about what people will be wearing this spring.
Short of having a direct line into the minds of US consumers, Google search traffic is arguably the best insight there is into the American public's fashion-related thoughts and desires. The company owns 64% of the US desktop search market, and even more on mobile, making it the undisputed gatekeeper of information on the internet. By analyzing what people are searching for, Google gives us a proxy into what they're thinking, and wearing.
So what does Google think we'll be seeing more of? Apparently tulle skirts, jogger pants, and boyfriend jeans. These were the terms that a high volume of people were googling and that saw a significant increase in search queries.

The growing popularity of jogger pants is no shock. The trend of adapting soft, stretchy, sports-ready gymwear into everyday clothing, called athleisure, is simply too comfortable for Americans to bypass. It's even eclipsed denim in the minds of teens.
A boom in buoyant tulle, on the other hand, would certainly be surprising, unless a goth resurrection or the revival of Carrie Bradshaw is upon us. The report says that top search results for 'tulle' suggest most consumers are interested in making their own tulle skirts, rather than buying them (it notes the 20,000 tulle skirt tutorial videos on YouTube).
In fact, a few of the results seemed odd, to say the least. Evidently the top style of jogger pants searched was 'emoji.' Lisa Green, the head of Google's fashion and luxury team, confirmed that people were actually searching for jogger pants covered in emojis, not emojis of jogger pants. (Green is also a former Atlantic Media employee and used to work for National Journal.)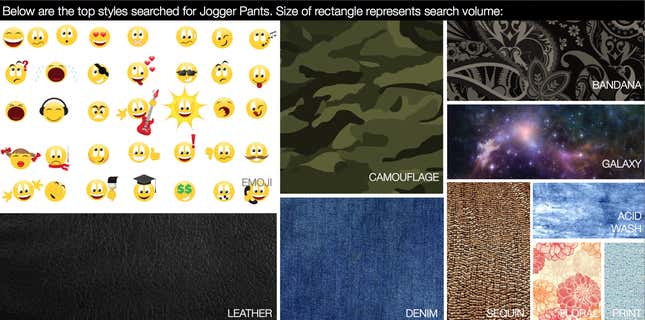 Some other highlights from the report: Searches for "apple bottom jeans" were down 2% but still had a higher search volume than most other denim categories; "high-waisted shorts" saw a 42% drop; and "Coogi sweaters," which were popularized by rappers such as Notorious B.I.G. and are now enjoying a bit of a comeback, were up an impressive 79%.
The report also noted that searches for "skinny jeans" were in a period of steady decline, and one of the unexpected results was that the big trends don't always start in fashion epicenters such as New York. Searches for tulle skirts, for instance, first picked up on the West Coast but well outside of Los Angeles.
The idea for the report came from the work Google does to help inform its advertisers, Green says, and marketers are its target audience. "It's really to interpret customer desire and what customers are looking for," she said. "We can actually see what from the runway will catch on."
We don't recall any emoji joggers on the runway recently, but we wouldn't put it past Jeremy Scott to give it a try.