It's now abundantly clear that PayPal is a far superior company to its aging parent, eBay.
For the first time ever, sales from the payments side of the business (Paypal) overtook sales from the marketplace division (eBay) in the second quarter of 2015. That's a big deal for the less-profitable payments business as it plans to spin off from eBay next quarter. For years, eBay executives had made the argument that PayPal needs the marketplace to fuel its business. Steadily increasing sales, along with improving sales via non-eBay merchants, proves that's no longer the case.
More lyrically put by the BGC technology analyst Colin Gillis in a research note: "Haiku: PayPal revenue, was larger than marketplace, ahead of the split."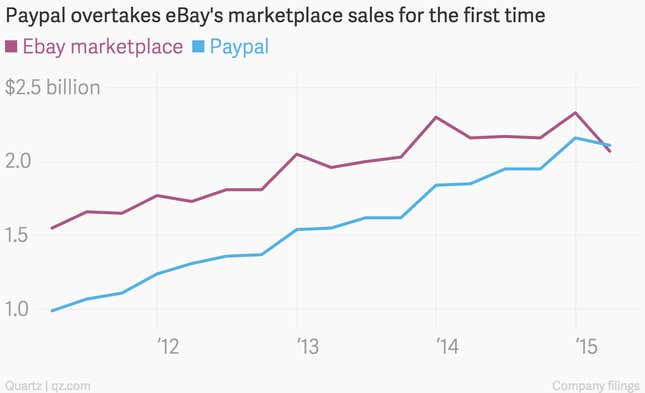 PayPal's revenue growth shows how far it has come since eBay bought the company more than a decade ago. At the time, PayPal was losing more money than it was making (net losses surpassed $100 million in 2001), and it depended on eBay for more than 60% of its transactions. Now, fewer than a quarter of PayPal's transactions come through eBay. Cantor Fitzgerald estimates that PayPal will earn $2.1 billion before interest, taxes, depreciation and amortization this year.
Still, growth is slowing at both eBay and PayPal, as competition ratchets up across the online marketplace and payments landscape.
When PayPal began, there were few ways to transfer money between consumers or to pay merchants without credit cards. Today, it's hard to rattle off all PayPal's competitors in one breath—the company itself offers a 1,000-word description (page 15) of its competitors, which include cash, credit cards, Bitcoin,  and Alibaba's Alipay.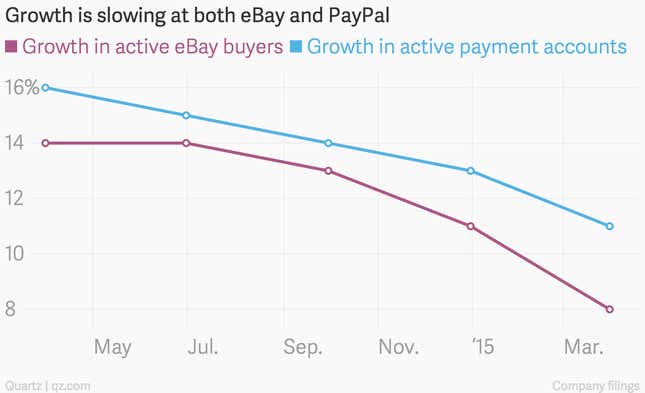 The future looks particularly bleak for eBay's marketplace, which plans to scale down costly, Amazon-like features such as same-day delivery, to focus on its page for bargain hunters, eBay Deals—a crowded and cutthroat area facing its own challenges as new entrants barrel in and consumers tire of one-time deals.
Ebay still hasn't recovered from a painful data breach and changes to Google's algorithm (paywall), which buried its products from search results. Most recently, eBay's new CEO said it is sticking to a so-far-unsuccessful strategy to attract more small and medium businesses.
On the other hand, there's a lot of room for PayPal to grow its legacy payments business, as well as its subsidiary payment systems, Venmo and Braintree. PayPal doesn't disclose financials for Venmo, but First Bank of Colorado recently told an industry conference the 115-bank branch is seeing 20% month-over-month growth in Venmo transactions.
PayPal also recently bought Paydiant, which designs payment systems that brick and mortar retailers can use in stores. And while it's unlikely it will ever get Amazon to include PayPal as a payment option, PayPal has room to grow with dozens of other top online retailers, including Staples, Macy's, and Gap.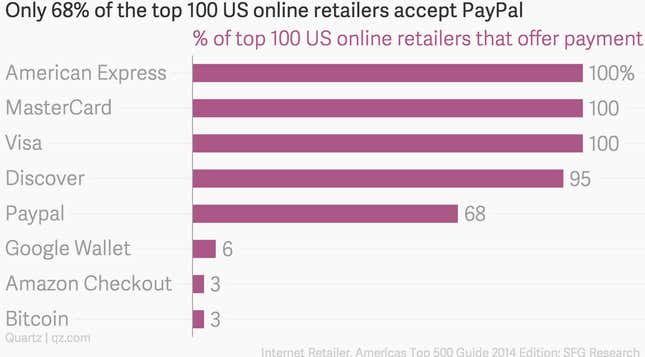 All is not rosy for PayPal's future, however. It's worth watching for any fallout from a lawsuit over the company's consumer lending practices that it has warned could come in the next several weeks.
PayPal said the US Consumer Financial Protection Bureau is investigating Paypal Credit, which facilitates small loans to consumers who want to buy items from online merchants and pay for them later without having to use a credit card. PayPal acquired the business through the 2008 purchase of Billmelater.com. Paypal warned that a lawsuit could result in fines and require changes to how it operates the business.